PLTW continues to empower teachers to facilitate transformative student experiences through their innovative, virtual professional development, PLTW Core Training.
PLTW is not "curriculum in a box" or "watch this video and then teach it." Our signature PLTW Core Training is intensely collaborative professional development, taught by PLTW-certified Master Teachers who are also current classroom practitioners and leaders. In small groups—in person or online—teachers are immersed in the same creative, interactive PLTW learning journeys that their students will experience. Whether your teachers are STEM enthusiasts or STEM-shy, they'll gain the confidence to guide cohesive, meaningful activity-, project-, and problem-based learning. They're empowered to be your students' STEM mentors.
Grade Level: PreK-12
Primary Audience: PLTW teachers
Key Benefits for Teachers
PLTW Core Training provides meaningful professional development experiences with an energetic and interactive platform.

Trainings use a dynamic mix of live sessions and in-depth exploration of PLTW coursework facilitated by expert Master Teachers to engage learners on multiple levels.

Participants learn the content and skills needed to continue their course implementation.

An advantage of PLTW Core Training is that there are many opportunities to collaborate with Master Teachers and participants throughout the experience, and long after the training has concluded.
A laptop that meets minimum computer specifications and includes required software for the course.

Reliable internet connection (virtual classes only)

Webcam, Microphone, and Headphones (virtual classes only)
PLTW is proud to be an Accredited Provider by the International Association for Continuing Education and Training (IACET). This designation certifies that PLTW complies with the ANSI/IACET Standard, which is recognized internationally as a standard of excellence in instructional practices. As a result of this accreditation, PLTW is authorized to issue IACET Continuing Education Units, or CEUs. CEU hours are specific to the selected PLTW Core Training experience.
PLTW Core Training costs vary by course. Specific costs can be accessed on pltw.org
PLTW is excited to offer courses online with a set number of hours correlating to the days spent attending live sessions via Zoom as well as in-person courses in Los Angeles, California and Indianapolis, IN. Check out the schedule on pltw.org
What Our Teachers Have to Say About PLTW Core Training
"Instructors know the content and understand how to engage all teachers regardless of skill level in the subject." ꟷ PLTW Core Training Participant

"I immediately felt confident in using the curriculum and became assured of my skills to teach this course in a few weeks." ꟷ PLTW Core Training Participant

"The training allows you to experience the course as a student would and makes it easier to foresee potential challenges students may face when working through the activities, projects, and problems." ꟷ PLTW Core Training Participant

"My trainers were awesome. I left the class feeling prepared to teach the class. I was extremely nervous going into it and the training left me ready to go!" ꟷ PLTW Core Training Participant

"I thought it was facilitated very well and the trainers had a great balance of lecture, work time, and grouping people up. I felt engaged throughout the course and learned a lot in a very short time. ꟷ PLTW Core Training Participant
Registration for PLTW Core Training is now open. Log into your myPLTW account, or create one, by visiting my.pltw.org.
About PLTW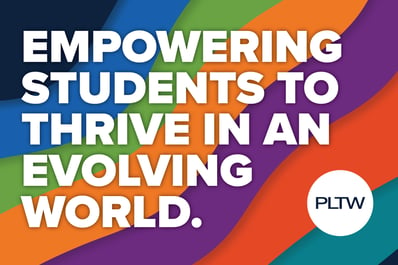 PLTW provides PreK-12 schools, teachers, and students with hands-on, interdisciplinary STEM-based curriculum that uniquely prepares students for life and their future careers.
PLTW rejuvenates teachers, providing world-class experiences that keep them on the forefront of how to prepare students for the demands of tomorrow.
Learn more about PLTW on PLTW.org