PLTW's professional development is designed to create dynamic learning experiences for educators through powerful and flexible instructional support and an ongoing professional community. Our teacher training prepares educators to lead engaging experiences in their classrooms while also providing continuous support.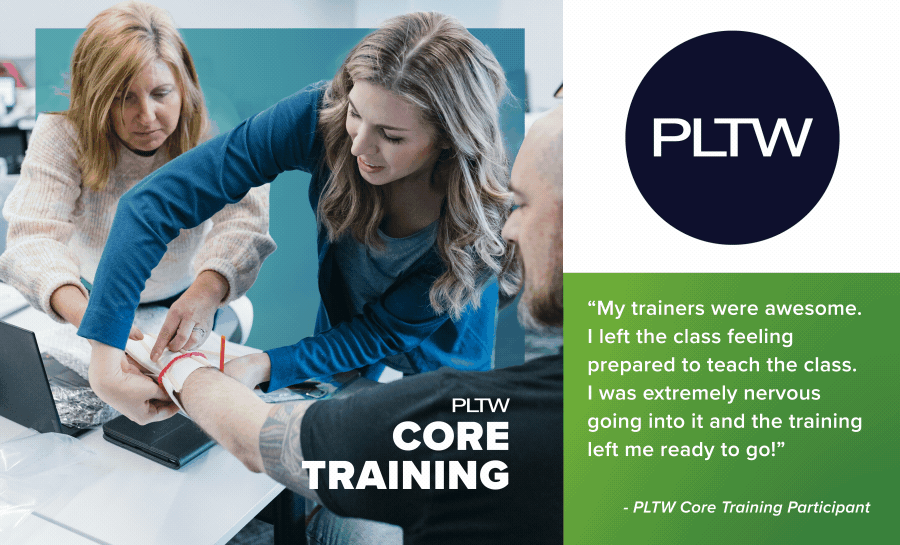 PLTW Core Training immerses teachers in a hands-on, collaborative learning environment that challenges them to look at their classrooms in a new way. Teachers take on the role of a student, engage in in-depth exploration of PLTW coursework, and gain invaluable knowledge and skills that they will take back to their classrooms.
PLTW Core Training helps teachers build skills and confidence around activity-, project-, and problem-based (APB) learning; prepares educators to become facilitators and coaches; and empowers them to bring learning to life through their PLTW program.
We're thrilled to offer both in-person and online training opportunities for our network. Joining us online? We've compiled eight helpful tips to help you prepare for your online PLTW Core Training experience.
Get

your equipment and swag on:

Prior to the start of online PLTW Core Training, you'll receive course specific equipment and materials and fun PLTW merchandise. This welcome kit and equipment ships directly to the address you provided during registration. For more PLTW goodies, you can also visit the PLTW exclusive training shop.

Meet your training facilitator and cohort participants:

Keep an eye out for an email from your Master Teacher, the lead facilitator for your training, for a required orientation meeting via Zoom where you'll meet your Master Teacher and fellow participants. During this meeting, you'll tour the curriculum, review the equipment needed for training, and have an opportunity to ask questions.

Technology check:

Prior to orientation, check your equipment to ensure it's working properly (web cam, high-speed internet, headset, etc.). This helps make sure everything is up and running on your first day of training.

Stay ahead by completing your prerequisite courses:

PLTW prerequisite training is course work participants must complete prior to the start of their training session to learn the goals, pace, and time commitment of online PLTW Core Training. Complete your prerequisite courses by logging into your

myPLTW

account, select Professional Development, and view your Dashboard. Remember that completing prerequisite courses is essential to prepare for orientation and the first day of training.

Software matters:

Make sure you download and install all necessary software for your PLTW Core Training experience. Please see required software for each course, unit, or program as listed here.

Create your space:

Setting up your workstation in an area with minimal interruptions is key to creating a collaborative online learning experience. Some participants find using two monitors helpful when participating.

Checkout our blog

Tips for Creating Space-Learning from Home with PLTW

for fun and useful ideas to create your learning space anywhere!

Learn more about your upcoming experience:

Review the Welcome to PLTW Core Training section located in Courses in myPLTW

(choose the dark blue PLTW Professional Development icon under Collections and then select your training). This section includes helpful information on course features, the training agenda, and learning goals, and the technology used in PLTW Core Training. We encourage you to watch the videos within the Welcome to PLTW Core Training section to see how you'll engage with the learning systems throughout your training.

Managing expectations:

Knowing what to expect before, during, and after PLTW Core Training enables you to prepare for the best possible teacher professional development experience. Learn important details such as pace of the learning sessions, attendance policy, software requirements, and much more by reviewing th

e

R

esources page on PLTW.org

before the course start date.
Bonus tip: PLTW understands learning in an online environment may be new and different for some of our participants. We've developed a series of helpful blog resources with tips and best practices to set you up for success. Please take a moment to review the following:
Ready to join thousands of teachers across the country as they experience best-in-class, dynamic professional development experiences this summer?
PLTW provides PreK-12 schools, teachers, and students with hands-on, interdisciplinary STEM-based curriculum that uniquely prepares students for life and their future careers.
PLTW rejuvenates teachers, providing world-class experiences that keep them on the forefront of how to prepare students for the demands of tomorrow. PLTW:
Has provided professional development opportunities to more than 80,000 teachers giving them the support and resources needed to inspire students

Offers best-in-class

teacher training

: PLTW Core Training with Master Teachers

Continuously updates teacher resources that are available on demand

Facilitates teacher networking opportunities

Develops curriculum by a team of writers, many of whom are former teachers
Learn more about PLTW on pltw.org.
Tags: PLTW Core Training