Celebrating Districts and Schools Committed to Unlocking Student Potential Through PLTW Programs
PLTW empowers millions of students across the U.S. to unlock their potential by developing the in-demand, real-world knowledge and skills necessary to thrive in life beyond the classroom.
PLTW Distinguished Program Recognition celebrates districts and schools committed to helping students own their education by increasing student access, engagement, and achievement in their PLTW programs.
We are excited to celebrate and recognize your incredible achievements.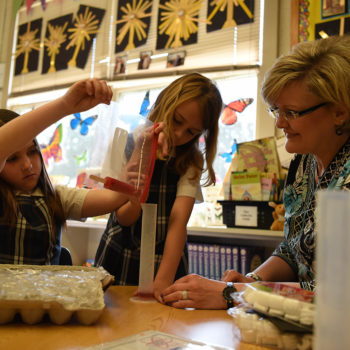 Congratulations to 2022-23 Program Recognition Winners
A 2 STEAM @ Northside
Michigan
A. I. Root Middle School MCCC
Ohio
Abbot Elementary
Michigan
Abraham Lincoln Elementary School
Indiana
Ac Prep Elementary
Missouri
Academy for Academic Enhancement Elementary
Texas
Distinguished High School
Academy of Information Technology and Engineering
Connecticut
Accompsett Elementary School
New York
Accompsett Middle School
New York
ACES at Chase
Connecticut
Adams Central Elementary School
Indiana
Adams Elementary School
Iowa
Distinguished High School
Adlai E. Stevenson High School
Illinois
Distinguished High School
Aero/Hydrospace Engineering Magnet School at Fairchild Wheeler Campus
Connecticut
Distinguished High School
Affton High School
Missouri
Affton School District
Missouri
African-Centered College Preparatory Academy
Missouri
Akron Elementary School
Indiana
Distinguished High School
Alamogordo High School
New Mexico
Alexander Doniphan Elementary School
Missouri
Alexander Hamilton Elementary School
Indiana
Algonquin Road School
Illinois
Alkali Creek Elementary School
Montana
Allen Elementary
Michigan
Amelia Earhart Elementary School
Kansas
Distinguished High School
Anderson Districts 1 And 2 Career And Tech Center
South Carolina
Distinguished High School
Anderson Institute of Technology
South Carolina
Angell Elementary
Michigan
Ann Arbor Open School
Michigan
Ann Arbor Open School
Michigan
Ann Arbor Public Schools
Michigan
Ann Arbor STEAM at Northside
Michigan
Distinguished High School
Anna High School
Texas
Distinguished High School
Antelope High School
California
Antioch Middle School
Missouri
Antioch Upper Grade School
Illinois
Apollo Elementary (K-4) School
Kansas
Apple Creek Elementary School
Oklahoma
Distinguished High School
Aquinas High School
California
Arlie F. Hutchinson Middle School
California
Distinguished High School
Arlington High School
California
Arrowhead Elementary School
Montana
Distinguished High School
Arrowhead High School
Wisconsin
Distinguished High School
Ashley Ridge High School
South Carolina
Aurora Elementary School
Indiana
Avon Grove Charter School State Road
Pennsylvania
Avon Grove Charter School State Road
Pennsylvania
Avon Grove Early Learning Center at Kemblesville
Pennsylvania
B. Banneker Elementary School
Missouri
Bach Elementary School
Michigan
Bailey Station Elementary School
Tennessee
Baldwin Elementary
Virginia
Bancroft-Rosalie Elementary School
Nebraska
Bancroft-Rosalie Secondary School
Nebraska
Distinguished High School
Barren County High School
Kentucky
Distinguished High School
Barron Collier High School
Florida
Distinguished High School
Bartlesville High School
Oklahoma
Bartlesville Public Schools
Oklahoma
Battell Elementary School
Indiana
Distinguished High School
Battlefield High School
Virginia
Distinguished High School
Baystate Academy Charter Public School
Massachusetts
Beartooth Elementary School
Montana
Beaverton Academy of Science and Engineering
Oregon
Distinguished High School
Beaverton Academy of Science and Engineering
Oregon
Beiger Elementary School
Indiana
Bell Graham Elementary School
Illinois
Bell Intermediate Academy
Indiana
Belle Heth Elementary School
Virginia
Belleville Elementary School
Wisconsin
Belleville Middle School
Wisconsin
Ben Franklin Elementary School
Wisconsin
Ben Franklin Middle School
Indiana
Bench Elementary School
Montana
Benjamin Franklin Classical Charter Public School
Massachusetts
Distinguished High School
Bentonville High School
Arkansas
Distinguished High School
Berea Midpark High School - Polaris
Ohio
Bessemer Elementary School
Colorado
Big Sky Elementary School
Montana
Bitterroot Elementary School
Montana
Blackmore Elementary School
Kansas
Distinguished High School
Blackstone Valley Regional Vocational Technical Hi
Massachusetts
Distinguished High School
Blaine High School
Minnesota
Blue Grass Elementary School
Iowa
Border Star Montessori
Missouri
Boulder Elementary School
Montana
BP STEM Academy
California
Briarwood Elementary School
Oklahoma
Bridges Preparatory School
South Carolina
Bridges Preparatory School
South Carolina
Brittany Hill Middle School
Missouri
Broadalbin-Perth Elementary School
New York
Broadmoore Elementary School
Oklahoma
Broadwater Elementary School
Montana
Brooke Middle School
West Virginia
Distinguished High School
Brooklyn High School
Ohio
Brooklyn Middle School
Ohio
Brooklyn STEM Academy
Indiana
Brooks Middle School
Illinois
Distinguished High School
Brother Rice High School
Illinois
Distinguished High School
Brownsburg High School
Indiana
Distinguished High School
Brunswick High School - Medina County Career Center
Ohio
Bryant Elementary School
Michigan
Bryant Elementary School
Oklahoma
Buchanan Elementary School
Iowa
Buffalo Elementary School
Iowa
Buist Academy
South Carolina
Distinguished High School
Bullard High
California
Burlington Elementary School
Montana
Burns Park Elementary School
Michigan
Burnside Elementary School
Kentucky
Byng Elementary School
Oklahoma
Byng Francis Elementary School
Oklahoma
Distinguished High School
Caddo Kiowa Technology Center
Oklahoma
Caln Elementary School
Pennsylvania
Camdenton Middle School
Missouri
Camp Ernst Middle School
Kentucky
Distinguished High School
Campo Verde High School
Arizona
Canterbury Elementary School
Illinois
Distinguished High School
Captain John L Chapin High School
Texas
Distinguished High School
Carolina Forest High School
South Carolina
Carpenter Elementary School
Michigan
Distinguished High School
Carrboro High School
North Carolina
Carthage 6th Grade Center
Missouri
Carver Elementary School
Missouri
Caston Elementary School
Indiana
Catherine M Mcnamara Elementary School
New York
Distinguished High School
Catholic Memorial High School
Wisconsin
Cedar Heights Middle School
Washington
Cedar Ridge Elementary School
Oklahoma
Distinguished High School
Cedar Ridge High School
Texas
Center Street Elementary School
California
Center Street School
New York
Centerton Elementary School
Indiana
Central Elementary School
Oklahoma
Central Elementary School
Indiana
Central Florida Preparatory School
Florida
Central Heights School
Montana
Distinguished High School
Central High School
North Dakota
Central Middle School
Oklahoma
Distinguished High School
Central Technology Center School District No 3
Oklahoma
Cesar Chavez Elementary School
Texas
Challenger Intermediate (5-6) School
Kansas
Challenger Intermediate School 5-6
Kansas
Distinguished High School
Chaminade Julienne Catholic High School
Ohio
Distinguished High School
Chapel Hill High School
North Carolina
Chapel Lakes Elementary School
Missouri
Chapman Heights Elementary School
California
Distinguished High School
Charles Herbert Flowers High School
Maryland
Distinguished High School
Charles W Baker High School
New York
Charleston Charter School for Math and Science
South Carolina
Distinguished High School
Charleston Charter School for Math and Science
South Carolina
Distinguished High School
Charlotte Engineering Early College
North Carolina
Distinguished High School
Cherokee High School
New Jersey
Distinguished High School
Christian Academy English Station
Kentucky
Claggett Middle School MCCC
Ohio
Clague Middle School
Michigan
Clark Davidson Elementary (K-4) School
Kansas
Clarksville Elementary
Arkansas
Clay Elementary School
Iowa
Claypool Elementary School
Indiana
Clear Creek Elementary School
Iowa
Distinguished High School
Clear Lake High School
Texas
Clear Lake Middle School
Iowa
Clearwater Elementary West
Kansas
Clearwater Intermediate Middle School
Kansas
Clewiston Christian School
Florida
Clinton Young Elementary School
Indiana
Cobalt Institute of Math and Science Academy
California
Distinguished High School
Cobalt Institute of Math and Science Academy
California
Comfort Elementary School
Texas
Distinguished High School
Community High School
Michigan
Concord East Side Elem School
Indiana
Concord Ox Bow Elementary School
Indiana
Concord South Side Elementary School
Indiana
Concord West Side Elementary School
Indiana
Cooks Corners Elementary School
Indiana
Distinguished High School
Coon Rapids High School
Minnesota
Cooper Elementary School
Kansas
Coral Academy of Science Reno MS Campus
Nevada
Cordill-Mason Elementary School
Missouri
Cornerstone Charter Academy
Florida
Distinguished High School
Cornerstone Charter Academy
Florida
Cornerstone Charter Academy
Florida
Cornerstone Christian Academy
Texas
Distinguished High School
Corona High School
California
Distinguished High School
Corrales International School
New Mexico
Corron Elementary School
Illinois
Country Dale Elementary School
Wisconsin
Coventry Elementary School
Illinois
Distinguished High School
Covington Catholic High School
Kentucky
Crescent Elementary
California
Distinguished High School
Crossland High School
Maryland
Distinguished High School
Crownpoint High School
New Mexico
Distinguished High School
Cumberland Regional High School
New Jersey
Distinguished High School
Cuyahoga Valley Career Center
Ohio
Daniel Young Elementary School
Missouri
Darnaby Elementary School
Oklahoma
Deanna Davenport Elementary School
Texas
Deerfield Elementary School
Indiana
Delta Woods Middle School
Missouri
Denton Avenue School
New York
Derby Hills Elementary School
Kansas
Design39Campus
California
Diamond Hill Elementary School
Texas
Distinguished High School
Diamond Hill-Jarvis High School
Texas
Dicken Elementary School
Michigan
Discovery Intermediate School
Kansas
Discovery Middle School
Missouri
Distinguished High School
District for Owensboro Community and Technical College
Kentucky
Dobbs Elementary School
Missouri
Dodgeland Elementary School
Wisconsin
Dogwood Elementary School
New York
Dora Romero Elementary School
Texas
Douglas MacArthur Elementary School
Indiana
Distinguished High School
DuVal High School
Maryland
Eagle Cliffs Elementary School
Montana
Early Learning Center at George Earl Elementary School
Indiana
Earlywine Elementary School
Oklahoma
Distinguished High School
East Chapel Hill High School
North Carolina
Distinguished High School
East Cooper Center for Advanced Studies
South Carolina
East Fallowfield Elementary School
Pennsylvania
East Farms STEAM Magnet School
Washington
East Garfield Elementary School
Ohio
East Moline Public Schools District #37
Illinois
Eastern Pulaski Elementary School
Indiana
Eastgate 6th Grade Center
Missouri
Eastlake Elementary School
Oklahoma
Distinguished High School
Eastside High School
California
Eastview Elementary School
Ohio
Eberwhite Elementary School
Michigan
Edgewood Middle School
Indiana
Distinguished High School
Edison High School
California
Edison School of Innovation
Arizona
Edwards Elementary School
Colorado
Eisenhower Elementary School
Iowa
El Paso Elementary School
Kansas
Elizabeth G. Lyons Elementary School
Massachusetts
Elkhorn Area Middle School
Wisconsin
Elmont Elementary School
Kansas
Distinguished High School
Elmwood High School
Ohio
Elmwood Middle School
Ohio
Emerson Elementary School
Oklahoma
Emmons Elementary School
Indiana
Ernie Pyle Elementary School
Indiana
Ervin Elementary School
Missouri
Distinguished High School
Eureka High School
Missouri
Explorer Elementary School
Kansas
F. Willard Crichfield Elementary School
Indiana
Fairview Elementary School
Oklahoma
Distinguished High School
Fairview High School
Ohio
Fairview Mayer Middle
Ohio
Fairview School
Wisconsin
Fairview South School
Illinois
Distinguished High School
Farmington High School MO
Missouri
Fegely Middle School
Indiana
Ferson Creek Elementary School
Illinois
Fillmore Elementary School
Iowa
Firelands Middle School
Ohio
Fisher Elementary School
Oklahoma
Distinguished High School
Fishers High School
Indiana
Fletcher Drive Elementary School
California
Flint Lake Elementary School
Indiana
Foreign Language Academy
Missouri
Forest Heights STEM Academy
Arkansas
Forest Heights STEM Academy
Arkansas
Forest Park Middle School
Wisconsin
Forsythe Middle School
Michigan
Distinguished High School
Fort Walton Beach High School
Florida
Distinguished High School
Fort Zumwalt East High
Missouri
Distinguished High School
Fort Zumwalt North High
Missouri
Distinguished High School
Fort Zumwalt South High
Missouri
Distinguished High School
Fort Zumwalt West High
Missouri
Fortville Elementary School
Indiana
Four Mile Elementary School
Iowa
Fox River Grove Middle School
Illinois
Distinguished High School
Fox Valley Lutheran High School
Wisconsin
Distinguished High School
Francis Howell Central High School
Missouri
Distinguished High School
Francis Howell High School
Missouri
Distinguished High School
Francis Howell North High School
Missouri
Distinguished High School
Francis Tuttle Pre Engineering Academy
Oklahoma
Distinguished High School
Franklin High School
Wisconsin
Franklin School of Innovation
Colorado
Franklin Smith Elementary School
Missouri
Frazier Middle School
Pennsylvania
Fred J. Hums Elementary School
Indiana
Distinguished High School
Frederick County Career and Technology Center
Maryland
Distinguished High School
Friendswood High School
Texas
Distinguished High School
Frontier High School
California
Distinguished High School
Frontier STEM High School
Missouri
Fulton & Alsbury Academy of Arts and Engineering
California
Distinguished High School
Gar-Field High
Virginia
Garcia Elementary School
Missouri
Gardenhill Elementary
California
Garfield Elementary School
Iowa
Garfield Elementary School
Missouri
Garfield Middle School
New Mexico
Gateway 6th Grade Center
Missouri
Distinguished High School
Gateway Academy to Innovation & Technology
Kentucky
George Melcher Elementary School
Missouri
George S Mickelson Middle School
South Dakota
George Washington Carver 87
Indiana
Glacier Ridge Elementary School
Illinois
Gladstone Elementary School
Missouri
Distinguished High School
Glenbrook South High School
Illinois
Glenns Valley Elementary School
Indiana
Glenpool Elementary School
Oklahoma
Gobles Middle/High School
Michigan
Distinguished High School
Gobles Middle/High School
Michigan
Distinguished High School
Goddard High School
Kansas
Gotsch Intermediate School
Missouri
Distinguished High School
Grafton High School
Wisconsin
Graham Middle School
Ohio
Distinguished High School
Grain Valley High School
Missouri
Grain Valley North Middle School
Missouri
Grain Valley South Middle School
Missouri
Grand Prairie Collegiate Institute
Texas
Distinguished High School
Grand Prairie Collegiate Institute
Texas
Distinguished High School
Grand Terrace High
California
Grandview Elementary School
Kansas
Grandview Middle School
Missouri
Great Hollow Middle School
New York
Green Meadows Elementary
Massachusetts
Green Township Elementary School
Indiana
Distinguished High School
Greendale High School
Wisconsin
Distinguished High School
Greenfield Central High School
Indiana
Greenfield Middle School
California
Distinguished High School
Greensburg Community High School
Indiana
Greensburg Community School District
Indiana
Greensburg Elementary School
Indiana
Greensburg Jr. High School
Indiana
Grenada Upper Elementary School
Mississippi
H.V. Helbing Elementary School
Texas
Hadley Elementary
Massachusetts
Hailmann Elementary School
Indiana
Haisley Elementary School
Michigan
Hale Cook Elementary School
Missouri
Distinguished High School
Hamilton Southeastern High School
Indiana
Hancock Place Middle School
Missouri
Handley Elementary School
Indiana
Harding Middle School
Ohio
Harding Middle School
Ohio
Distinguished High School
Harmony Magnet Academy High School
California
Distinguished High School
Harmony School of Excellence - Austin
Texas
Harmony School of Innovation - Laredo
Texas
Harmony School of Innovation - San Antonio
Texas
Harrison Elementary School
Iowa
Harrison Elementary School
Indiana
Harry E Elden Elementary School
New York
Harry S Truman School
Iowa
Harshman Middle School
Indiana
Distinguished High School
Hartford Union High School
Wisconsin
Hartman Elementary School
Missouri
Hayes Elementary School
Iowa
Hazel Dell Elementary School
Indiana
Heavilin Elementary School
Indiana
Distinguished High School
Hendrick Hudson High School
New York
Distinguished High School
Henry Wise
Maryland
Heritage Trails Elementary School
Oklahoma
Herrick Park Intermediate Learning Center
Michigan
Heywood Avenue School
New Jersey
Hickman Mills C1 School District
Missouri
Highland Elementary School
Montana
Highland Park Elementary School
Colorado