PLTW Partnership Expands K-12 STEM Pathways to More Students in Growing Community "PLTW has changed how some of my students feel about school," PLTW Launch teacher Jillian Gudenschwager said. "There are students that do not think that they fit into the traditional classroom but find great success in a PLTW classroom because they are amazing problem solvers. These students start to see how their skills are wanted and needed in the world. Then, suddenly, school is no longer a place they tolerate, but a place where they want to be."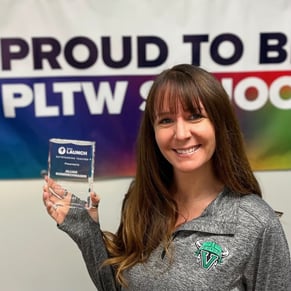 Gudenschwager teaches in Valparaiso Community Schools, a K-12 public school district with approximately 6,400 students in Valparaiso, Indiana, located about 50 miles southeast of Chicago, Illinois. The district began offering PLTW for high school students in 2015 and implemented PLTW Launch for elementary school students the following year. Their initial PLTW programs began with the help of a referendum to deliver science, technology, engineering and mathematics (STEM) education.
"One of the goals for the 2015 operating referendum was to expand programming for all students," Superintendent Dr. Jim McCall said. "The STEM initiative with the PLTW curriculum as a cornerstone in K-5 was selected because of its articulated approach to the concepts through the scientific method and a 'learn through failure' philosophy. In Valpo, we strive to teach students how to think, not what to think, so this curriculum complemented our efforts very well."
They introduced PLTW Gateway for middle school students in 2020 to complete the pathway from kindergarten through senior year. This ensures that all students in the district have the opportunity to pursue their interest in STEM without interruption.
In 2021, the district applied for and received a PLTW Grant which was supported by Ardagh Group and its Ardagh for Education initiative, which is a $50 million grant over 10 years to support PLTW and STEM education opportunities in the communities Ardagh does business. This support from Ardagh includes funding to train more teachers in PLTW Launch and add new modules at all eight of their elementary schools.
Thanks to the generous support of Ardagh, "now, many of our elementary students are exposed to PLTW and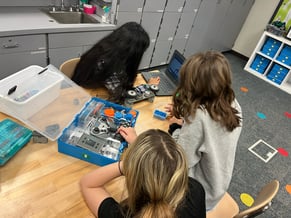 problem solving more than just once a week in STEM class," Gudenschwager said. "The curriculum and problem-solving skills are being incorporated into the classroom and tied to their reading curriculum, making the impact more meaningful."
The funds also support teaching training and other expenses to add new units and courses of PLTW for middle school and high school.
"Now, many of our secondary students are exposed to PLTW and choose STEM as a high school path that will lead to postsecondary education and a successful career," Gudenschwager said. "This pathway being more accessible to secondary students aids in our effort to meet the Indiana Graduates Prepared to Succeed standards."
The district values the PLTW curriculum for allowing students to "fail forward" – letting them gain knowledge from what didn't work and persevere to find new solutions. Educators within the district have found that students often want to be told how to solve a problem and are hesitant to try if they think they might be wrong. The PLTW curriculum gives students the opportunity to learn how to try and fail and move forward with what they learned from their experience, helping them gain confidence in their own problem-solving abilities and increasing their perseverance when things become difficult or unexpected.
"I really look forward to going to PLTW class and it has been great to learn so much that I didn't know before," Declan Nimmons, an eighth-grade student in the district, said. "I enjoyed the fun and exciting
parts of building a toy and programming a robot. I learned to work through and stick with assignments that took many hours to complete. I love going to class, and I would definitely look forward to taking another PLTW class." Declan is one of many students in the district experiencing the hands-on learning offered in PLTW.
Currently, the district has approximately 2,800 elementary students, 1,400 middle school students, and 330 high school students participating in PLTW – around 70 percent of all students in the district.
"We are so thankful to Ardagh for supporting our PLTW efforts," Gudenschwager said. "With their partnership, we have been able to expand our PLTW programming to reach more students and educators."
Ardagh's support of districts like Valparaiso strengthens the community and the local talent pipeline by empowering the next generation. According to Ardagh Metal Packaging - North America CEO Claude Marbach, "We are pleased to see our support for PLTW implementation and expansion come to life in Valparaiso where we have had a manufacturing presence for many decades. We look forward to seeing Valparaiso and the more than 20 other communities across the United States where we are located benefit from these strengthened STEM pathways with our local students exploring high-demand, high-wage career opportunities at organizations like Ardagh.