STEM Grants
Project Lead The Way (PLTW) provides STEM grants for elementary schools, middle schools, and high schools to implement computer science, engineering, and biomedical science STEM curriculum as well as professional development for teachers.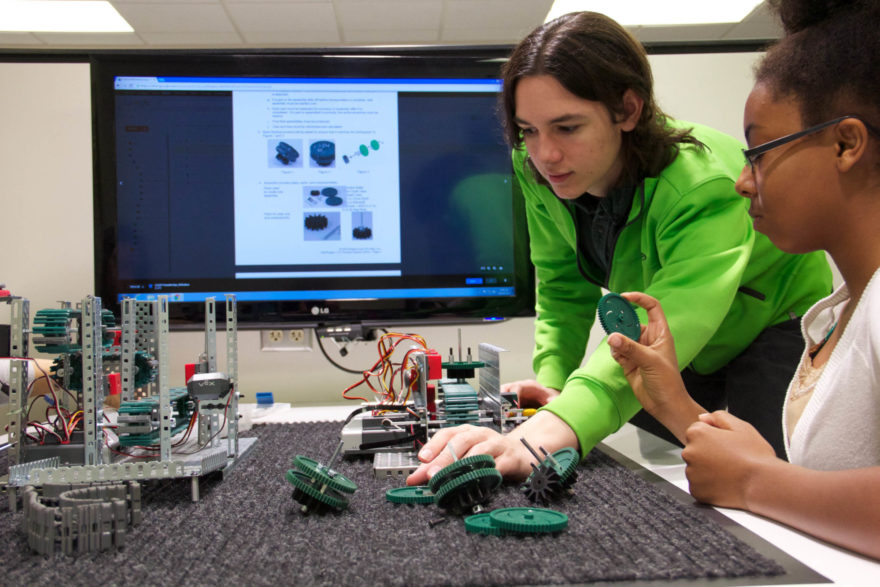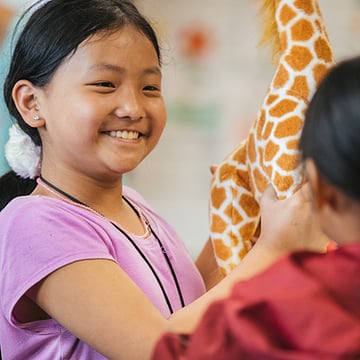 Our Elementary (PreK-5) Program
PLTW Launch taps into students' exploratory nature, engages them in learning that feels like play, and encourages them to keep discovering through activities like designing a car safety belt or building digital animations.
Our Middle School (6-8) Program
PLTW Gateway illuminates the range of pathways and possibilities students can look forward to in high school and beyond through challenges like designing a therapeutic toy for a child with cerebral palsy, cleaning up an oil spill, or solving a fictional crime.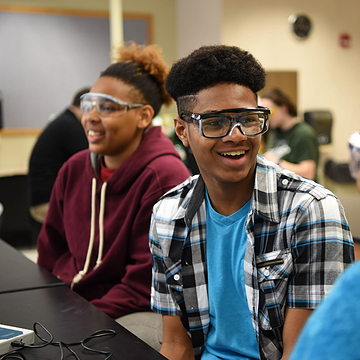 Our High School (9-12) Programs
PLTW Computer Science engages students in true-to-life activities like creating an online art portal or developing problem-solving apps.
PLTW Engineering immerses students in activities like designing a home, programming electronic devices, or exploring algae as a biofuel source.
PLTW Biomedical Science students step into the roles of medical investigators, surgeons, and biomedical engineers.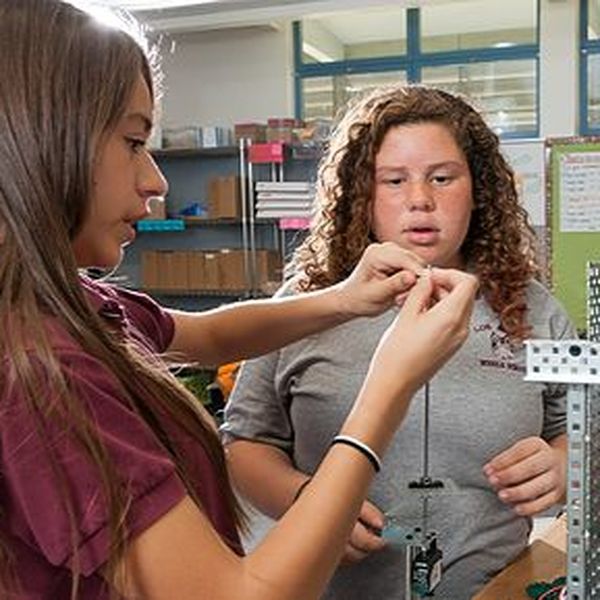 Innovative Classroom Grants
More than ever before, there is a broad spectrum of funding resources available to support schools' many needs. Funding from federal education and recovery plans, corporate partners, and granting agencies create a collection of resources schools can access and combine to help support their students and to help them close learning gaps.
Project Lead The Way works with companies and foundations across the U.S. to provide STEM grant opportunities to implement or expand PLTW programs.
Over the last 10 years, PLTW with the support from these generous partners, has distributed over $75 million in school grants to more than 6,600 PreK-12 schools. Is your school considering adding a PLTW program or expanding an existing program but need support with initial expenses? You may be eligible for a PLTW STEM Grant!
Ideas for STEM Grants
Numerous funding sources are available to help schools elevate their students' learning experience, and PLTW has resources and ideas for STEM grants. Explore the support options below.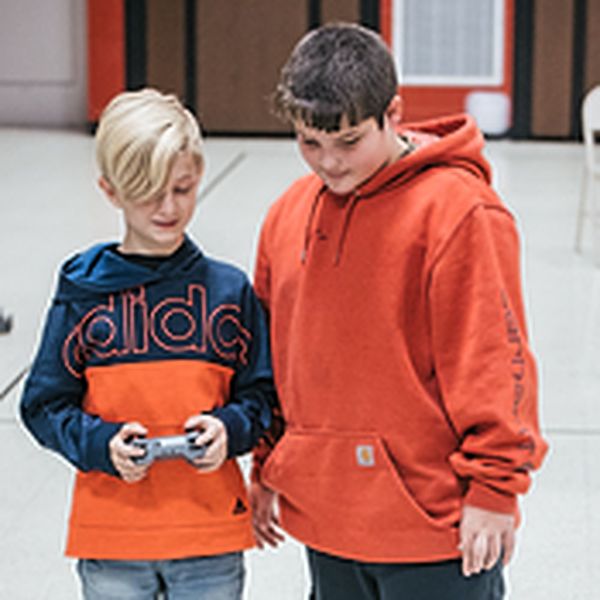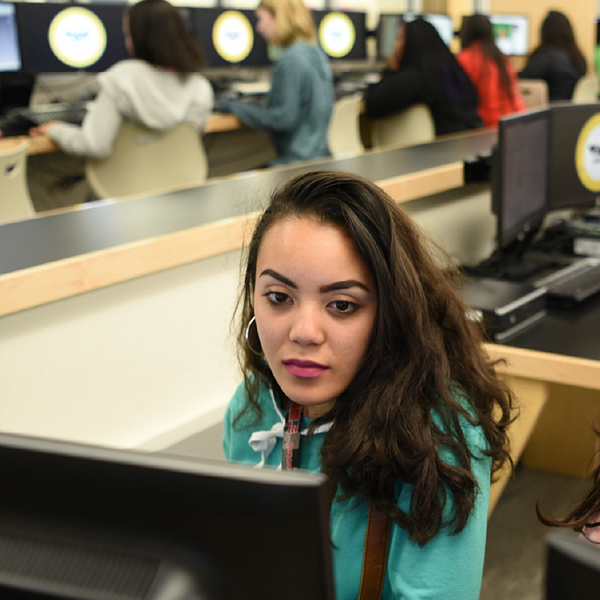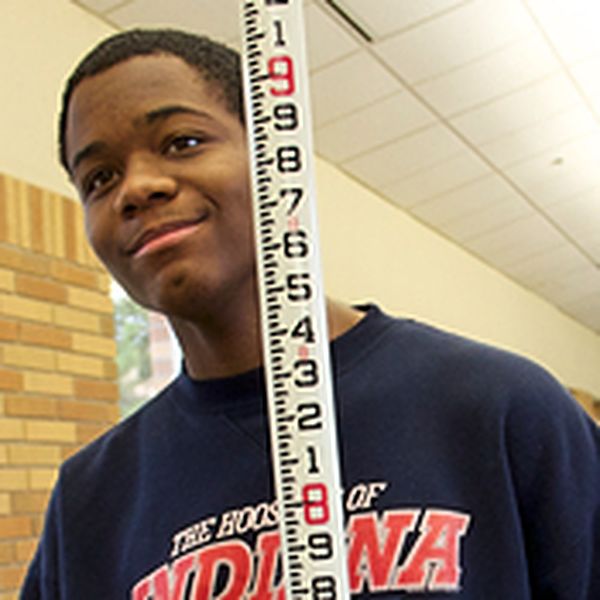 Apply For STEM Grants
Schools may submit applications annually, and grants are awarded on a rolling basis from July 1 to June 30. PLTW keeps applications on file until June 30 of each year, so we may consider schools for more than one grant opportunity throughout the funding cycle. Most grants are awarded at the end of the fall semester and early spring semester. We recommend submitting during the fall semester in order for your school's application to be considered for as many grants as possible.
Learn More
STEM Grants
Project Lead The Way (PLTW) is a nonprofit organization that offers meaningful learning experiences to PreK-12 students via practical curriculum and resources. PLTW also offers a variety of grants for teachers, including engineering project grants. PLTW works with foundations and companies all over the country to secure STEM grants for STEM programs.
PLTW offers several programs designed for different age groups. For example, PLTW Launch is intended for students PreK through 5th grade. The goal of this program is to encourage students' natural exploratory nature and engage them with playful learning opportunities that build a foundation for strong critical thinking skills. PLTW Gateway is geared toward students in grades six through eight. The PLTW Gateway program helps middle schoolers discover new passions by allowing them to explore their interests and learn more about themselves in the process. Middle school is a transitional period, and PLTW Gateway aims to boost engagement and excitement in the classroom and empower students to take charge of their own future.
Moreover, there are three PLTW programs for high school students. PLTW Computer Science teaches students coding skills and enables them to make use of common technology. The program presents students with the opportunity to design solutions to real-world challenges while also teaching them how to be effective communicators.
PLTW Engineering teaches high school students the skills they need to become excellent problem solvers. This program allows students to tackle real problems in a classroom setting and can help them develop important skills like problem solving, creative thinking, and collaboration.
PLTW Biomedical Science is another high school program. This program empowers students to pursue biomedical science to solve problems and improve the world around them. Students will participate in hands-on learning experiences and develop the skills, not just to succeed in the biomedical science field, but to succeed in any career path they may take.
PLTW has created comprehensive STEM curriculums for grades K-12 and can provide teachers with the resources to empower their students. PLTW also provides grants for teachers to help them get the funding they need to provide their students with the best education possible.
STEM Grants For Elementary Schools
Project Lead The Way (PLTW) has numerous grants available that could give educators access to the funds needed to implement PLTW programs. Some of these grants are specifically designed to fund the PLTW elementary program, called PLTW Launch. By taking advantage of STEM grants for elementary schools, elementary teachers can become empowered to build the strongest educational foundation possible for young learners. Elementary educators who struggle to find access to the resources they need, could benefit from applying for grants for STEM education.
The goal of PLTW Launch is to bring learning to life for elementary students. The program promotes a design mindset that encourages students to solve problems by engaging in compelling, hands-on activities. STEM grants for elementary schools provide funding that schools need to afford the materials that make hands-on learning opportunities possible. PLTW Launch focuses on preparing students for further education in computer science, engineering, and biomedical science.
PLTW Launch curriculum is available in English and Spanish. PLTW is committed to providing access to STEM education to all students, including America's English Language Learners. Grants for STEM education could give school districts the chance to provide their students with transformative learning experiences, no matter their financial situation.
STEM Grants For High Schools
There are three main curriculums that Project Lead The Way offers to high schools: computer science, engineering, and biomedical science. Each of these programs can be implemented with assistance from STEM grants for high school students. Educators can use STEM grants for schools to provide the resources that high school students need to succeed in their chosen path.
PLTW's computer science program offers high school students the knowledge and tools to become tomorrow's leaders in technology. In the computer science program, students will start by learning basic computational thinking skills, and progress through to skills like advanced coding and cybersecurity. No matter which corner of the computer science field students wish to explore, STEM grants for high schools can help them reach their goals.
The PLTW engineering program is designed to help high school students develop the problem-solving skills to engineer the solutions to tomorrow's problems. Students begin by exploring career opportunities in the engineering field and learning the engineering design process, then move on to learning about narrower topics like aerospace engineering, architecture, and environmental sustainability. Educators who want to provide these opportunities for their students but are struggling to find the means can apply for a STEM grant for high school students.
The final high school STEM curriculum path that PLTW offers is the biomedical science path. This program gives students the opportunity to explore real-world problems and gain hands-on experience with professional lab equipment. Students in the biomedical science path start by learning about the potential career opportunities in the biomedical science field and practicing essential skills like clinical empathy and data analysis.
STEM Grants For Charter and Private Schools
Project Lead The Way (PLTW) is a nonprofit organization that partners with foundations and companies all over the United States to raise money for STEM education grants for nonprofits. PLTW has worked with these organizations to raise and distribute over $75 million in STEM grants for nonprofits for more than 6,600 schools over the course of the last ten years. These grants help fund the implementation of PLTW's STEM curriculum across the United States. Education grants for nonprofits can empower school districts and educators to provide transformative learning experiences for all students. PLTW's partnerships are just one channel through which the money to fund PLTW courses has been raised.
There are numerous PLTW grant opportunities available. Schools can apply for grants by submitting applications for the desired grants annually. The grants are awarded from July 1st to June 30th on a rolling basis. Applications are kept on file until June 30th, and schools may be considered for more than one grant at a time. Grants are usually awarded during the beginning of the spring semester or near the end of the fall semester. Education grants for nonprofits could be one way for schools to find the funding to implement PLTW's STEM programs.
Innovative Classroom Grant Ideas
Project Lead The Way offers many ideas for STEM grants to help schools fund the implementation of PLTW curriculum. The purpose of these grants is to give disadvantaged schools and students equal opportunities for a successful STEM education. One example of these grants is the American Rescue Plan (ARP). ARP provides funding options that can enable educators to implement PLTW curriculum in their classrooms. ARP funding can provide STEM grants for minorities that could allow equal access to STEM curriculum and resources for all learners and educators. Federal school improvement grants could also be used to introduce or expand PLTW programs in schools.
There are a variety of innovative classroom grant ideas available from PLTW, including the option for ARP funding. Schools that qualify for ARP funding could use it to implement or expand STEM programs offered by PLTW. There are other ideas for STEM grants available from PLTW that can provide equal access to STEM education for all students. Educators who take advantage of grants to fund PLTW programs at their schools could provide a greater level of educational value to their students
Ideas For Grant Proposals
Schools that wish to implement Project Lead The Way (PLTW) curriculum but need help finding the funding to do so can apply for grants. PLTW provides many ideas for grant proposals that can help schools that lack the resources they need. These schools can participate in a rolling application process to be awarded money from one or more of the grants PLTW provides. To apply for PLTW grants, educators can create an account on the PLTW website and enter an online application to apply for a grant. Students can be provided numerous learning opportunities with the help of STEM grant proposals. Examples of the type of curriculum that can be implemented using grant money include PLTW's high school computer science, engineering, and biomedical science programs.
Schools can apply for PLTW grants using myPLTW, which serves as a single platform from which to access all the services needed to manage PLTW programs. Educators who wish to apply for a grant can do so by creating a myPLTW account, logging in, and selecting the "Grants" application on the myPLTW homepage. From there, educators can choose which grants to apply for from the list of STEM grant proposal examples.
Grants For Science Teachers
Grants for science teachers could help educators better teach their students and instill in them an enthusiasm for science. Project Lead The Way (PLTW) offers science grants for public schools, private schools, and charter schools to fund PLTW programs. PLTW also offers educators the training needed to execute those programs to their fullest potential. This enables educators to provide their students with a high-quality learning experience made possible by STEM grants for teachers. PLTW's Core Training delivers an interactive and collaborative learning experience for teachers that can ensure they are equipped to teach the PLTW curriculum confidently and effectively. Science grants for teachers can help provide equal access to this training for everyone.