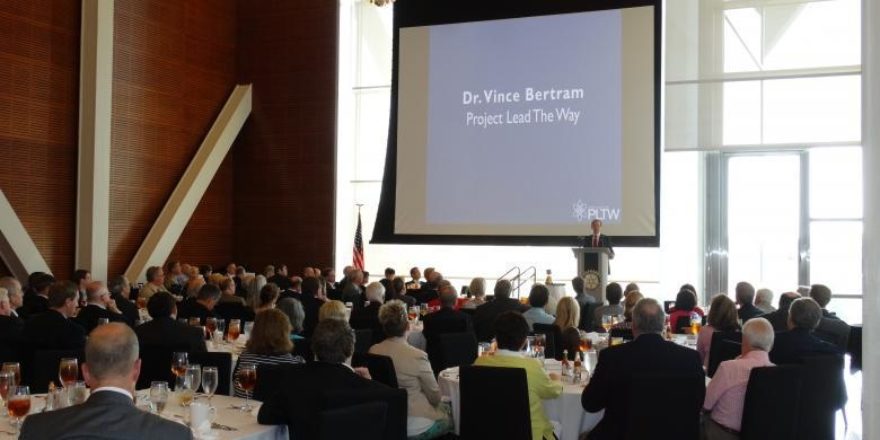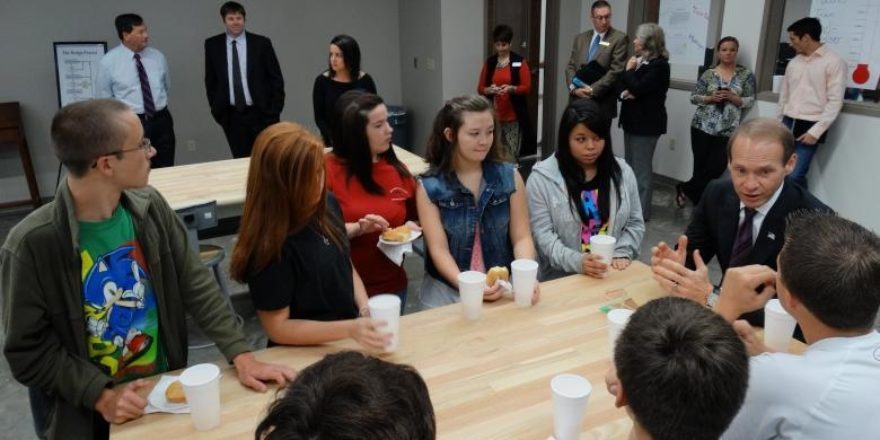 On the Road: Little Rock, Arkansas
Like many states across the country, Arkansas is experiencing a STEM crisis. Change the Equation states that there are 2.4 STEM jobs open for every unemployed STEM professional. In non-STEM fields, however, there are 4.4 unemployed people for every available job. This week, Vince's travels took him to Little Rock, where he spoke on the urgency and importance of STEM education and provided a call to action for the state's educators and community leaders.
Arriving in the state's capital city Monday evening, Vince sat down with Little Rock's National Public Radio station for an interview.
"STEM is an integrated approach to teaching and learning. It connects all disciplines and teaches students to apply math and science in a context in which it wasn't learned," Vince said. "STEM is a fundamental aspect of our economy. The disciplines connect to everything we do. Students with a STEM background have a critical skill set that will better serve them in any field they pursue."
Moments later, Vince spoke to an audience of community members and students of the Clinton School of Public Service. Stressing the importance of STEM education for Arkansas students, he encouraged attendees to work together as a community, connecting K-12 with higher education and business, to create a better prepared workforce.
On Tuesday, Vince met with the Arkansas STEM Coalition at a brand new space called the Arkansas Regional Innovation Hub. It's a "maker space" that will give high school students a place to create and turn ideas into businesses. The co-working space will bring together students, local business leaders, patent attorneys, the U.S. Small Business Administration, Innovate Arkansas, and the University of Arkansas Little Rock. During the meeting, the Arkansas STEM Coalition discussed barriers to STEM education and asked questions to learn more about PLTW's curriculum and teacher professional development model.
"You have a voice not only here in Arkansas, but across the country," Vince told them. "We have to get the right people to the table."
He delivered a similar message while speaking at the Rotary Club of Little Rock Tuesday afternoon. Little Rock's Rotary Club is one of the largest in the nation, drawing school board members and administrators, business leaders, community and nonprofit leaders, and government officials from across the region. Club members were eager to hear how STEM impacts Arkansas and the need for STEM courses and STEM training to better prepare the state's future workforce. Vince explained that STEM is not just the combination of science, technology, engineering, and math, but rather an integrated, applied approach that combines all disciplines into a relevant learning experience.
During questions after Vince's speech, one Rotary member talked about the need for students to develop so-called 'soft skills' like the ability to think critically and communicate, and asked if STEM helps students develop those skills.
"Those skills are so vital, we don't call them soft skills," Vince said, explaining how critical thinking, problem solving, collaboration, and presentation skills are key skills that students in PLTW hone and excel in.
He left Rotary members with a key message: "The regions that get this right are the regions that will win. Each of us has an opportunity to change lives. Support your community's schools, collaborate, and work with one another to help solve the education and workforce problems."
Vince concluded his trip with what he enjoys most – interacting with students. At Bryant High School in Bryant, Arkansas, students in the school's PLTW Engineering program enthusiastically showed off their projects. Vince was wowed by their t-shirt canon, a project they say was inspired by their experience in PLTW and VEX Robotics. The canon has the ability to launch t-shirts from the visitor's side of the football stadium over to the home side.
He also had the opportunity to travel to Star City, Arkansas, where he interacted with elementary, middle school, and high school students involved in PLTW. Star City not only offers PLTW in grades K-12, but also offers all five PLTW programs, including PLTW's Engineering, Biomedical Science, and Computer Science programs. High school students stressed how much they enjoy the hands-on, challenging courses that allow them to use technology. Several students said they knew nothing about engineering prior to taking PLTW Gateway, but after doing so and now enrolling in PLTW Engineering, they plan to pursue engineering in college.
Said a female student in her sophomore year: "I took PLTW in middle school because I was tired of regular classes, and immediately, I felt a change. I want to be an engineer."
Another student in his senior year of PLTW Biomedical Science said he's been encouraged during his visits to colleges that the content being covered is similar to his Biomedical Science classes. "It's empowering to understand what they're talking about in college classes," he told Vince.
And elementary students enthusiastically shared with Vince their favorite parts of PLTW Launch.
"It's so much better than learning with a sheet of paper," said one boy.
Another young girl echoed, "You actually get to do it. It's hands on!"
Read more on Vince's visit in the Arkansas Democrat-Gazette. Vince's interview on NPR 89.1 FM in Little Rock will air Thursday, October 9 at 6:05 p.m. CDT.