Updated: Sept. 6, 2023

At PLTW, we understand the importance of preparing students for the real world. That's why we continuously update our curriculum to help your students see the relevance of what they're learning and how it can lead to a successful career.
Whether it is your first year, 40th year, or somewhere in between, our team at PLTW is excited to support you throughout this school year. Below are key updates you need to know as you plan for the 2023-24 school year.
Additionally, we are excited to share several new opportunities for you to learn and connect with your peers this year:
This fall, we kicked off a new STEM Ally webinar series; watch for more information on the next event.
In October, we'll offer our virtual Teacher Connection events, which will help you network with fellow teachers and share STEM classroom ideas.
In January, we will offer our first in-person conference specifically for PLTW Launch elementary teachers and administrators: Sparking Curiosity, A PLTW Launch Conference.
Thank you for your unwavering commitment to exceptional teaching and learning. Together, we are making an impact on the lives of nearly 2.5 million U.S. students, helping every student in every grade thrive in a STEM-driven world.

New Module: Energy Exploration
Incorporates a new interactive experience called "Main Street" that allows students to explore, observe, and investigate energy.
In the PTLW Launch module-specific professional development course, we've included resources designed to build conceptual understanding and provide demonstrations for teachers.
This new module includes support for both the VEX IQ and VEX 123 kits.
With the release of the new module, the Energy: Collisions and Energy: Conversion module was sunset at the end of June 2023.
Update: Spatial Sense and Coding
The VEX® 123 interactive robot is now included in the module kit, replacing the robotic mouse. The module includes dual support for the interactive robot— VEX® 123 and the robotic mouse.
Math Highlights
To help educators highlight connections to math as well as understand where math skills are applied in STEM learning experiences, PLTW has created:

Downloadable Connections to Common Core State Standards for Mathematics for each grade level to show where the curriculum helps you support math learning.
Math Discussion Questions to help you broaden student perspectives.
Optional Math Connection Activities in multiple modules to help you go beyond what students are already doing in the module.
Math Performance Tasks in multiple modules to aid you in driving your students' mathematical thinking.

Spanish-Language Modules Update

As with all our current modules, these updates are available in Spanish, at no additional investment, to support your multilingual learners. 

Major Update: Automation and Robotics
The previous Automation and Robotics unit was sunset on June 30, 2023, and the VEX Cortex platform is no longer being supported.

Review the 2023-24 Update Training Resources chapter in the Teacher Guide of the new Automation and Robotics unit.
In the updated unit, students will explore robotics and automation as they take on the role of interns, and work in teams to create prototypes to meet the needs of clients.
Programming is embedded in the entire unit so students will build automated systems throughout, as they create solutions for engaging scenarios. The unit includes:

End-of-lesson interim assessments
End-of-unit summative assessment
Interactive build guides
Optional game-based learning experience
Real-world exploration

This unit includes dual support of both the VEX EXP and VEX V5 platforms with VEXcode.
Custom PLTW VEX Gateway EXP kits (both full and upgrade options), equipment and supplies, and consumable kits, are available in the myPLTW Store.
Update: App Creators
Lesson 2 now offers an alternative Game Design lesson.

This alternative lesson offers students the opportunity to design and develop mobile app games.

Project 1.8: Build-A-Body is now Project 1.8: Build an App. The updated project includes multiple app options. Each app option has a different theme and provides a different level of challenge for students.

The former Project 1.8 Build-A-Body app is one of the app options available in the updated project.
Update: Green Architecture
The modeling software used in this unit is being updated from Autodesk Revit 2020 to Autodesk Revit 2023.
Update: Computer Science Essentials
Equipment has been updated to include a new version of the PLTW CSE Self Driving Vehicle (SDV) and mat.

The new PLTW CSE SDV uses a VEX EXP brain and an updated chassis.
The previous fabric mat with grid has been replaced with a more durable 5x5 grid made of 25 plastic tiles that snap together.

The Computer Science Essentials curriculum will continue to support the PLTW CSE V5 SDV and fabric mat with grid.
Solution files for both EXP and V5 are provided in the Teacher Guide.
Update: Computer Science Principles
The AWS Academy Cloud9 version of Activity 2.2.3 Demystifying Data Transmission has been removed from the course.

AWS Academy is no longer required for Computer Science Principles.
The activity now offers the option to use online tools in case students do not have access to the Terminal.
Improvements: Computer Science A
All GUI programs have been scaled to work with online IDEs.
The while loop and for loop activities (2.4.1 and 2.4.2) have been simplified.
Activity 2.4.3 has been shortened, moving two programs to the Teacher Guide under Differentiation Opportunities.
College Board's Steganography Lab has been replaced with a new Image App project that does not rely on binary math; the Steganography Lab will still be available in the Teacher Guide.
New Selection Sort and Insertion Sort videos have been created for Activity 3.7.6
A new slideshow for the Merge Sort has been created for Activity 4.10.2.


Just Launched: PLTW CSA Optional Java Certification Unit
We are thrilled to announce the launch of a new optional addition to the PLTW Computer Science A (CSA) student course: the Java Certification unit.

The Java Certification unit is a supplement to the content covered in AP CSA Chapters 1-4. The activities discuss additional topics that are included in Oracle Certified Associate certification. After completing AP CSA Chapters 1- 4 and this unit, students should be qualified to take the Java SE 8 Programmer 1 Exam. Students who pass the exam will receive the Oracle Certified Associate, Java SE 8 Programmer certification.

The unit is now live in the PLTW CSA student course and can be found just below Chapter 4. It is optional and intended for students who are interested in taking the certification exam. The unit has been specifically designed to be self-paced and student-driven; all answers are provided within the student course and do not require any teacher feedback.

To view the Java Certification alignment for the CSA course, click here. We've also compiled a Frequently Asked Questions document with additional details.
Cybersecurity
The Cyber Lab Console has been updated and added to your Site page in myPLTW.
Improvements include:

Teachers can now schedule labs in advance, reducing spin up time.

Students will experience reduced, or in some cases, eliminated wait times when accessing the labs.

Teachers now have more control to start and relaunch labs.

Principles of Engineering:
Legacy Course Will Remain Open For Another Year
PLTW recently released a new version of the Principles of Engineering (POE) course with new unit themes and context to provide greater student engagement for students. It also includes a new sequence of activities that establishes and develops skillsets needed for projects and problems.
There is no End-of-Course (EoC) Assessment available for the updated POE curriculum at this time. Only students enrolled in the legacy POE course will be assigned an EoC Assessment aligned with the legacy course materials. Students enrolled in the new POE curriculum cannot be assigned to take a EoC.
Just as our curriculum teaches our students to be life-long learners, we embody the same mindset at PLTW. Stay tuned to this blog and our email updates as we continue to provide you with the latest information throughout the year.
Aerospace Engineering
AGI STK, software exclusively used in the PLTW Engineering AE course, was recently purchased by ANSYS software.
Due to this, schools now need to transition to ANSYS STK version 12.5 or newer following new licensing procedures and guidelines.
All schools will need to use a licensing server in their school or use on a machine in their lab, as standalone licensing is no longer available. The Installation Guide on our software page has been updated to reflect the new software installation and server installation. If you have questions, contact the PLTW Solution Center.

Update: PLTW Capstone
Access to PLTW Capstone will remain open for all credentialed high school teachers for the 2023-24 school year.
PLTW Engineering Design and Development will officially change to PLTW Capstone in the 2024-25 school year to be more inclusive of students from all three PLTW High School pathways – PLTW Computer Science, PLTW Engineering, and PLTW Biomedical Science.

PLTW Capstone will be available as the culmination course in each of the high school pathways beginning in the 2024-25 school year.
Teachers will need to complete PLTW Core Training for PLTW Capstone if they have not already completed PLTW Engineering Design and Development training.
Additional information on this transition is forthcoming.

Major Update: Human Body Systems
The previous version of HBS was sunset on June 30, 2023.
Review the 2023-2024 Update Training Resources chapter in the Teacher Guide of the new Human Body Systems course.
Key components of the update include:

New engaging cases, real-world career exploration, and novel theming and staging.
Instant cases presented in a video format at the "Quick Clinic".
New gamified elements to support student learning and enhance the hands-on lab experience.

Pathogen Patrol is an experience on Roblox in which students will explore immunological processes.
New This Year for the End-of-Course Assessments
There is no End-of-Cource (EoC) Assessment available for the updated Principles Of Engineering (POE) curriculum at this time. Only students enrolled in the legacy POE course will be assigned an EoC Assessment, which will be aligned with the legacy course materials.

Kite 4.0 is required to administer the EoC Assessment in 2023-24. To ensure the best and most secure testing experience possible, Kite 3.0 has been removed from our supported list. The underlying software has released essential updates. The newer app version brings better security and improved functionality to protect student data.
For more information on EoC Assessments, download the 2023-24 Assessments Administration Manual.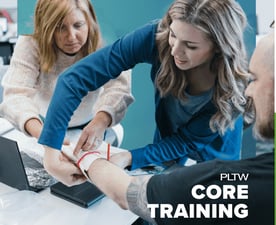 PLTW Core Training and Professional Development Suite
PLTW Core Training and Professional Development Suite trainings run year-round, and classes are continually added. We offer training opportunities to enhance your skills and instructional approaches for the classroom. Explore professional development opportunities.
PLTW Teacher Connection: Learn, Share, and Network Event
PLTW Teacher Connection is back this fall. This virtual event is for PLTW teachers to share best practices, success stories, and learn together with educators from across the country. Participants will connect as a larger group, followed by pathway-specific virtual breakout rooms to share classroom ideas, tips, and tools.

All PLTW educators are welcome regardless of PLTW pathway, program, or tenure. Don't miss this great opportunity to connect with your community. Register for the event time that works best with your schedule: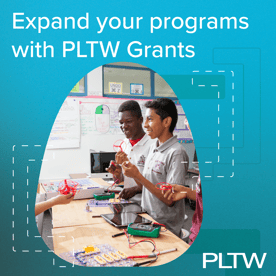 PLTW Grants
We are pleased to share these competitive PLTW grant opportunities for schools in partner-selected communities across the country made possible by Ameren, Boston Scientific, John Deere, Lockheed Martin, and Verizon.

Ameren is PLTW's newest philanthropic partner, whose $140,000 commitment will support PLTW grants to new and existing PLTW programs in Ameren service territories in Illinois and Missouri.

Explore these grant opportunities and others made possible by Burns & McDonnell, Chevron, and Tesla/Nevada DOE. We will continue to post additional grant opportunities supported by more partners throughout the 2023-24 fiscal year.
Visit the PLTW website to learn more about these new opportunities to further support STEM education.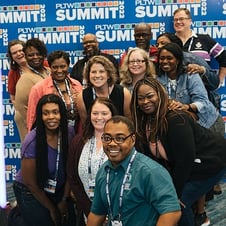 PLTW Summit
PLTW is proud to announce the next PLTW Summit is scheduled October 3-5, 2024 in San Diego, CA. PLTW Summit is offered every two years in the fall and is a great opportunity to network, collaborate, and learn alongside educators from across the country.
Stay tuned for more information on the Events website for more details.

PLTW provides PreK-12 schools, teachers, and students with hands-on, interdisciplinary STEM-based curriculum that uniquely prepares students for life and their future careers. PLTW rejuvenates teachers, providing world-class experiences that keep them on the forefront of how to prepare students for the demands of tomorrow. PLTW:
Has provided professional development opportunities to more than 80,000 teachers giving them the support and resources needed to inspire students

Offers best-in-class

teacher training

: PLTW Core Training with Master Teachers

Continuously updates teacher resources that are available on demand

Facilitates teacher networking opportunities

Develops curriculum by a team of writers, many of whom are former teachers
Learn more about PLTW on pltw.org.