John Kappes is an educator and PLTW Program Coordinator for the Portage Township School Corporation in Portage, Indiana. John has 26 years of educational experience and has been teaching PLTW for 17 years.
Portage Township Schools (PTS) is located in the heart of Indiana's steel-producing industry along the shores of Lake Michigan, in the long shadows of Chicago. Characterized as a diverse hardhat community, PTS is home to nearly 8,000 students K-12. PTS is a Title 1 district, and over 58 percent of its student population qualifies for free or reduced-price school meals.
PLTW took root at Portage High School nearly 20 years ago. Today, the district's PLTW program offerings – PLTW Gateway, PLTW Computer Science, PLTW Engineering, and PLTW Biomedical Science – provide district students with a robust 6-12 STEM program. And today – thanks, in part, to the district's recent partnership with ArcelorMittal to expand its PLTW Gateway and PLTW Engineering programs – PTS offers 13 different PLTW courses at three schools. PTS strongly supports its PLTW initiative, and all middle school students are required to take two semesters of PLTW.
In addition, the district's 11 multi-trained PLTW teachers have come together to form a Professional Learning Community (PLC) that meets monthly to collaborate and better meet student needs. One of the PLC's more recent and highly successful endeavors to promote PLTW has been the 8th Grade Recruitment Seminar.
Learn more about our key PLTW program initiatives below:
The PLC
No one knows how better to assist a PLTW educator like another PLTW educator. PLTW has tremendous teacher support resources and mechanisms, and with 11 PLTW teachers at three different buildings in our district, we chose to build on that support system. Recognizing the wealth of instructional leadership among the district's PLTW teachers and the need to navigate the curriculum resource platforms, stay up to date on course revisions, and ensure program continuity, the PTS PLTW teachers requested sustained time for collaboration, technical support, and instructional coaching from one another.
With support from the superintendent and building leadership teams, the proposed PLC earned approval and now uses "Late Start Wednesdays" at the beginning of each month as time to collaborate.
The first task was to establish a purpose. The PLC built consensus for a mission statement: "Empowering Tomorrow's Problem Solvers, Today!"
Then came two big questions from PTS's middle school educators to the district's high school educators:
1.) "What do you do?"
2.) "What can we do to better prepare kids for high school?"
The resounding answer was, "Let us show you!"
To put the new mission statement into action, the teachers put the idea of marketing PLTW opportunities and showcasing student successes into rapid development.
The 8th Grade Recruitment Seminar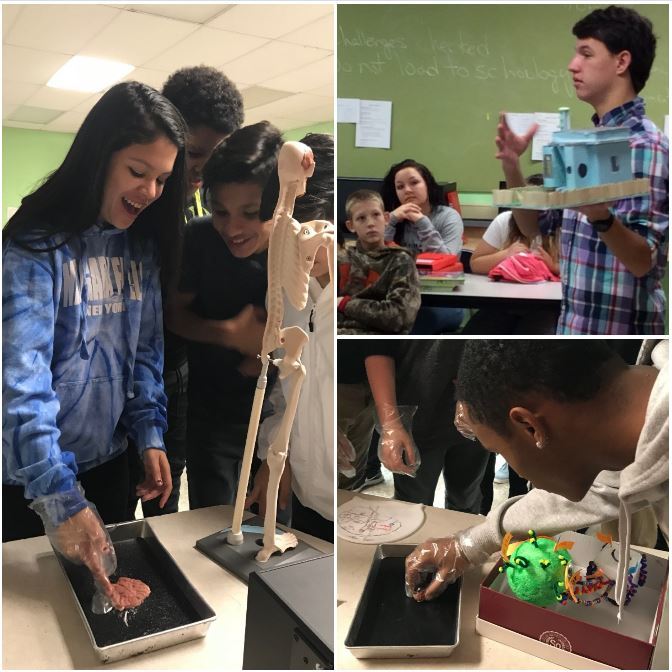 Taking their show on the road for an all-day event, student representatives from Portage High School PLTW classes visited Willowcreek and Fegely middle schools and presented STEM pathways and opportunities to all of the district's 8th graders.
In a round-robin format, student teams presented examples of class projects for the 8th graders to see and touch; gave PowerPoint and video presentations; and talked to the students about what to expect in high school PLTW classes. The Q&A portion allowed the 8th grade students to freely ask questions about the PLTW classes and high school life in general.
Here's how it worked: During a regular class period, students rotated among three action-packed sessions in 15-minute intervals. One session focused on 9th grade engineering and computer science opportunities, another shared PLTW Biomedical Science courses, and the last featured upper-level engineering and robotics. The three sessions combined provided a broad, fast-paced, interactive view of high school PLTW. At the end of the day, the student presenters gave five full round-robin presentations, engaging more than 600 incoming freshman. An exhausting but rewarding day!
The 8th Grade Recruitment Seminar was strategically placed in the weeks prior to freshman scheduling. Each student left with a PLTW promotional brochure and PLTW course descriptions. To commemorate the day, some students took pictures with robots and others even touched "the brain"!
Insights Derived From the PLC and Recruitment Seminar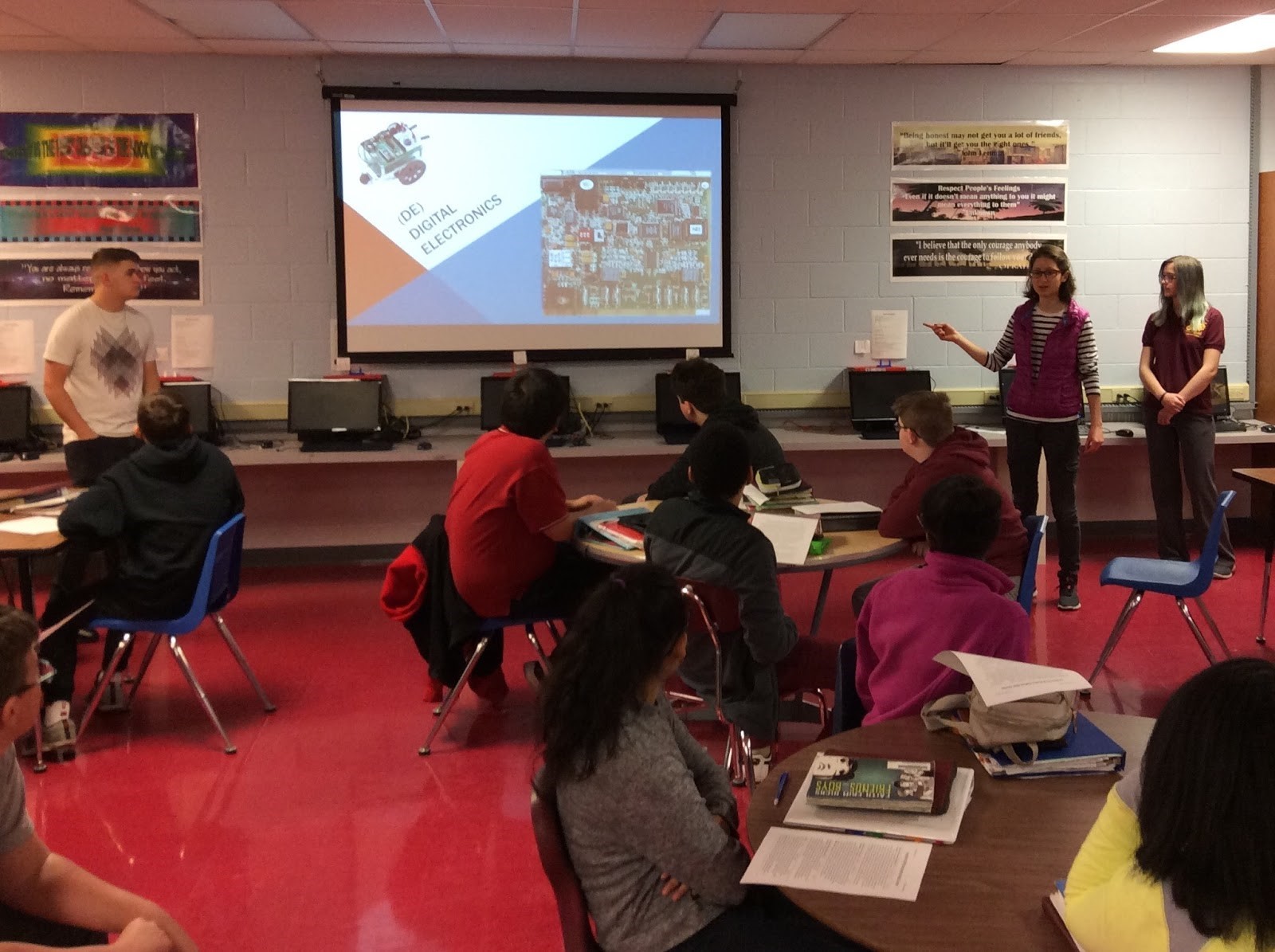 The PLC and student presenters gathered during plan time for a bite to eat and to reflect on the day. The insights from current high school students who've come through the seven-year PLTW program were pretty amazing:
Physical evidence (the projects) and peer testimony (the presentations) are impactful when informing youngsters. The middle schoolers were captivated by what the high school students had to say.
It's important that middle school kids see themselves in the future and are able to identify with successful high schoolers who sat in their seats just a few years ago.
The female PLTW high school students stood as positive examples for the middle school girls, encouraging them to pursue their interests, and thus, breaking the stereotype of the lack of women in STEM fields.
PLTW students learn how to approach problems and resolve them. This is not only a STEM skill, but also a prerequisite for life!
The student presenters found themselves as newly made role models – and even teachers – for the day.
The seminar was abuzz with much excitement for PLTW, both from students and teachers alike.
For the PLC, the 8th Grade Recruitment Seminar answered the question of "What do you do?" and "What do we need to do to prepare kids?"
The Results of the 8th Grade Recruitment Seminar
After the first year of the 8th Grade Recruitment Seminar, our Introduction to Engineering Design (IED) class enrollment jumped 50 percent. The subsequent year yielded an increase in Principles of Engineering (POE) and Digital Electronics (DE) course sections. In its third year, we added another full-time high school PLTW teacher to our team to respond to student demand. We attribute this growth to better marketing the opportunities for students after middle school and encouraging them to take full advantage of the possibilities available to them.
In addition, a collegial nature has emerged in the PLCs. Teachers are better informed about and invested in what goes on in other PLTW classrooms through the vertical middle school-high school PLTW pathways.
A culture is also developing in which the seminar is now an anticipated event for the 8th graders. And the high school PLTW students nearly compete for the opportunity to return to their PLTW roots as student presenters.
As evidenced by the high school presenters, PTS PLTW students look empowered to solve whatever problems tomorrow has in store for them. And that's a credit to all members of the PLC who've helped form their future.
PLTW's blog is intended to serve as a forum for ideas and perspectives from across our network. The opinions expressed are those of each guest author.