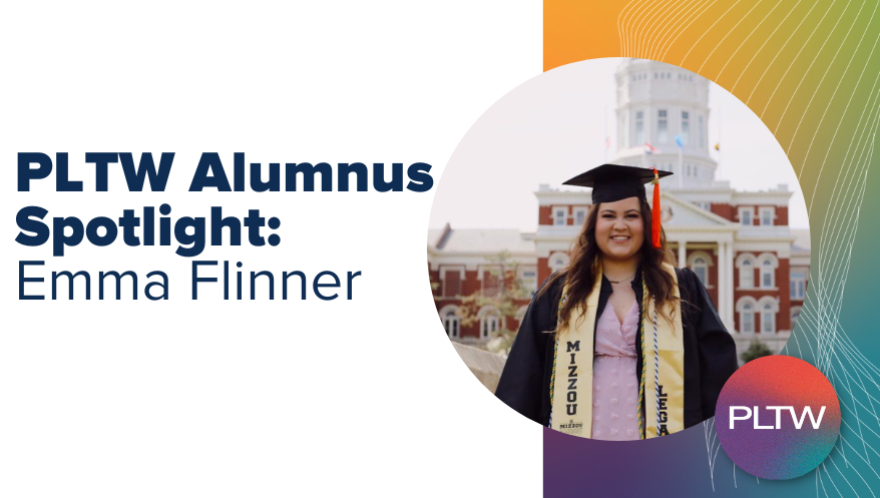 PLTW Alumnus Spotlight: Emma Flinner
For over 25 years, PLTW has offered transformative classroom and learning experiences for PreK-12 students. Now, many of those students are professionals in STEM fields. We recently reached out to several PLTW alumni to learn more about their educational and career journeys and find out what advice they have for current PLTW students. If you are a PLTW alumnus interested in sharing your story, we'd love to hear from you here. 
Emma Flinner lives in St. Louis, Missouri and is an Industrial Engineer at General Motors.In high school, Emma completed Introduction to Engineering Design, Principles of Engineering, and Digital Electronics in the PLTW Engineering program.
In what grades did you participate in PLTW? What were some of your most memorable experiences from PLTW?
I participated in PLTW from 10th to 12th grade. When registering for classes for my sophomore year, I put Introduction to Engineering and Design as my 4th alternate course with no interest in engineering. I ended up with the class on my schedule and when I attended school on the first day, I knew it was the right fit for me. I enjoyed being able to utilize my creativity and math skills when designing a car in Introduction to Engineering and Design and getting an introduction to civil engineering principles when building a bridge during Principles of Engineering. My favorite project of all was building and soldering a variety of chips and resistors to a circuit board, where when a button was pushed, the board simulated random die roll in Digital Electronics.
What did your journey look like to get to where you are today?
After I graduated high school, I went to the University of Missouri (Mizzou) where I got my B.S. in Industrial and Manufacturing Systems Engineering with a certificate in Global Supply Chain Management. While at Mizzou, I had internships with Alstom Signaling, a passenger and freight train manufacturing company, and Hormel Foods, a food processing corporation. Once I graduated college, I moved to Des Moines, Iowa to work full-time as an Associate Industrial Engineer at Hormel Foods. During my time with Hormel, I worked on a variety of automation projects and labor savings initiatives in different departments like ham injection and sliced meats. I ended up leaving my job to move home to St. Louis, MO and start working at General Motors as an Industrial Engineer. In January 2023, I will be starting my coursework to get my master's in Business Administration with a specialization in Supply Chain Management online with Lindenwood University.
What is your current role within your company? What are your responsibilities in this position?
I am currently an Industrial Engineer (IE) at an assembly and stamping facility that manufactures mid-size trucks and both passenger and cargo vans. As an Industrial Engineer for General Motors, I hold responsibilities for tracking and improving throughput and productivity, line balancing between operations, creating layouts for new machinery, performing time studies on equipment and personnel, and forecasting budgets. I also recently took over the role as plant ergonomist after my predecessor retired. As the IE overseeing ergonomics for the entire plant, I'm able to work one-on-one with the line operators to reduce any stress related to body mechanics or poorly designed equipment and tools, which opens opportunities to work with members of engineering, maintenance, safety, etc. to help resolve any concerns. As plant ergonomist, it is important to maintain the mindset of designing a job to conform to the person rather than enforcing the person to conform to the job.
What did you learn in PLTW that still helps you today?
I learned technical skills like how forces are applied, how to wire a circuit, and how to use 3D modeling software. I also learned and developed my soft skills like learning how to multitask, time management, and teamwork. All are skills I continue to use in my day-to-day life, both in and out of work.
Do you have any advice for current PLTW students?
Try to take as many PLTW courses as you can! Not only will the classes give you an introduction to the curriculum prior to starting your future studies, but it will be helpful in knowing what type of engineering you want to major in if college is your next step. Even if it doesn't sound like the most interesting class in the list, I encourage you to try it out and find out what you like!
Anything else you'd like to add?
Thank you, PLTW, for inspiring me to become a woman in STEM! Without it, I really don't know what I would be doing, but I bet I wouldn't be an engineer.
__
PLTW provides PreK-12 schools, teachers, and students with hands-on, interdisciplinary STEM-based curriculum that uniquely prepares students for life and their future careers.
PLTW rejuvenates teachers, providing world-class experiences that keep them on the forefront of how to prepare students for the demands of tomorrow. PLTW:
Has provided professional development opportunities to more than 80,000 teachers giving them the support and resources needed to inspire students
Offers best-in-class teacher training: PLTW Core Training with Master Teachers
Continuously updates teacher resources that are available on demand
Facilitates teacher networking opportunities
Develops curriculum by a team of writers, many of whom are former teachers
Learn more about PLTW on pltw.org