More than 85 PLTW middle and high school educators across the state of New York gathered on Oct. 17, 2023 for a day of learning and sharing at Rochester Institute of Technology (RIT). After pausing PLTW teacher gatherings normally hosted at RIT during the COVID-19 pandemic, Director of PLTW - Division of Enrollment Management Dr. George Zion and Associate Director - Office of Operations and Professional Development Sarah Pilliterre were excited to again host PLTW teachers on campus to help deepen their PLTW implementation and connect teachers in a meaningful way.
"The conference provided a valuable opportunity to reconnect with teachers, counselors, and administrators we haven't had the chance to collaborate with since 2020," said Dr. Zion. "We're enthusiastic about offering more events to nurture and expand the network of New York State PLTW schools."
During the conference, teachers chose from more than 15 sessions to take a deeper dive into the PLTW curriculum and assessment opportunities, gain new perspectives on how to integrate industry practices within their teaching, connect to industry partners, obtain strategies for PLTW program sustainability, and learn more about RIT offerings.
The keynote speakers from Nazareth University, Dr. Meg Callahan-Steckley and Gena Merliss, shared inclusive practices for STEM education to help build an inviting and sustainable program. Teachers ended the day hearing from PLTW Alumni that are currently attending RIT and touring the Student Hall for Exploration and Development (SHED), the ESL Global Cybersecurity Institute, and the Ward's Science facility.
"Our goal was to provide a diverse set of topics to educate, inspire and build relationships," said Pillittere. "We loved having the New York PLTW network back on campus and look forward to planning future events."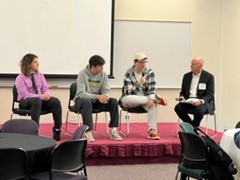 The student panel session was especially enlightening for PLTW teachers. They heard firsthand how classroom experiences helped prepare students for college.
Students shared how the technical skills earned in PLTW gave them a head start at RIT and provided them the confidence needed at college. Additionally, they shared the parallels between college classes and the APB format, collaboration opportunities, and critical thinking aspects of projects and iterations. All of these skills helped them succeed in college.
One student said that the best advice his PLTW teacher gave him was, "Don't learn just to pass the quiz. Learn to apply the content and skills in other places."
Another student stated that his PLTW teacher helped him learn time management skills by breaking projects into smaller deadlines.
All the students agreed a focus on communication skills helped increase their confidence to speak in front of their new peers at RIT.
"We are seeing a higher level of engagement from our higher education partners after the pandemic. Our partners value the PLTW student experience and are committed to supporting students and teachers in new and exciting ways," said Dr. Heather Baker, PLTW Senior Director of Community Partnerships.
Dr. Glade Montgomery, Senior Vice President of Strategic Partnerships for PLTW, gave welcoming remarks and emphasized how valuable events like these are for teachers to build a collaborative network they can learn from.
If you are a higher education institution and want to engage with other PLTW higher education partners, join our newly formed PLTW Higher Education Community of Practice. Together, PLTW and PLTW higher education partners discuss a variety of topics, share best practices, and connect PLTW students and teachers. Want to learn more? Email us at community@pltw.org.