Sarah Bancroft facilitates PLTW Gateway units Design and Modeling (DM), Automation and Robotics (AR), Green Architecture (GA), and Medical Detectives (MD) at Judson Independent School District (ISD) in San Antonio, Texas. Sarah has a Master of Science in secondary science education, as well as a Bachelor of Science in marine sciences. Sarah has earned recognitions including the 2017 ITEEA (International Technology and Engineering Educators Association) Teacher Excellence Award, the 2017 T2E2 (Texas Technology & Engineering Educators) Middle School Teacher Excellence Award, and the 2014 Distinguished Educator of the Year Award for Judson ISD.
JSTEM Academy is a school within a school in Judson ISD. We serve a total of about 360 students in the 6th, 7th, and 8th grades, and as such, we are a small, tight-knit community of teachers. We rely heavily on one another to do a big job in a little space. We are a family.
In the fall of 2017, Miss Ray, our beloved 27-year-old 7th grade math teacher experienced a life-changing stroke. For many weeks, she struggled to regain the physical and cognitive prowess she had once known. Dexterity in her left hand and arm were limited and prevented her return to work. Our students were both stunned by Miss Ray's abrupt exit and saddened by her continued absence. Substitute teachers filled the classroom space, but the students still felt a void. In an effort to empower our students and inspire Miss Ray, I developed Project Ray.
Project Ray is an exercise in empathy and inspiration. It engages students in designing and building a fine motor skills activity board for adults, using repurposed building materials and household items. I was able to purchase used cabinet doors for fifty cents each at a home rehab shop and required students to use primarily repurposed building and household materials. In order to create effective designs, students researched stroke-related motor challenges associated with the hands and fingers. They investigated and documented activities that build fine motor deficits. They studied children's toys and gadgets, which by design focus on fine motor development. They applied their new understandings in scaled drawings and consistently documented their ideas and challenges in their engineering notebooks.
As final designs began to emerge, the building process began. Students were introduced to and practiced the use of a variety of power tools, including jigsaws, drills, band saws, hot foam cutters, circular saws, reciprocating saws, staple guns, and a plethora of hand tools. They found power and purpose in their work and joy in doing something for Miss Ray. Working in teams, students also practiced professional skills, such as effective communication, budgeting, time management, decision making, and conflict resolution.
Amid conversations about opposition, rotation, and shift finger movements, students created doors and shelves, as well as knobs and latches; they drilled and cut, hammered and sliced. As final product began to materialize through the dust and noise, it became clear that students really "got" this project from all sides – the science of motion, the math of scaling, the writing of details, the history of motor skill techniques, and the engineering of an idea. What began as an idea to empower students dealing with loss became Project Ray, a truly STEM-focused, project-based learning opportunity with a focus on empathy.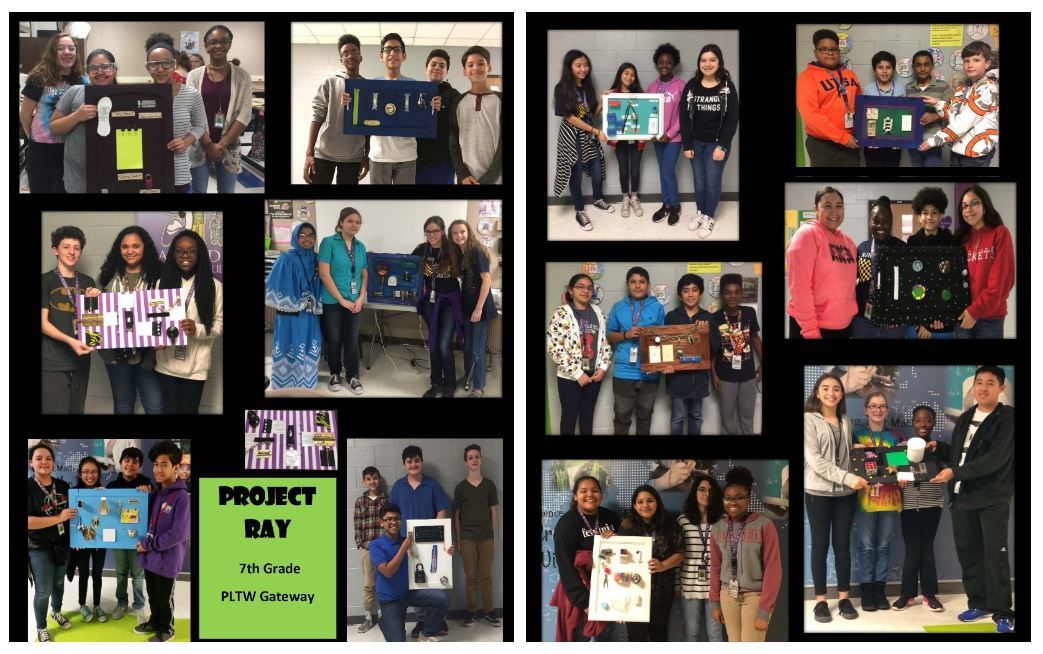 Although the project, which spanned nearly a month, was time consuming, you can see the final products are AMAZING and the designers are incredibly proud. Several of the boards will be presented to the rehabilitation facility that made it possible for Miss Ray to return home to her JSTEM Academy family this spring. The proof is in the pudding, and during our recent recruiting open house, parents and potential students couldn't keep their hands off of the projects, and in the end, wasn't that really our goal? I say bravo to a job well done! JSTEM 7th grade PLTW Gateway students rocked the project!
PLTW's blog is intended to serve as a forum for ideas and perspectives from across our network. The opinions expressed are those of each guest author.