We caught up with Lana Rice, Curriculum Integration Coordinator for Coon Rapids High School - Center for Biomedical Sciences and Engineering (CRHS) and four senior students as they presented their capstone projects for Medtronic employees. Miss out on part one? Check it out here!
Presenting your senior capstone project can be daunting on its own, but all capstone students at CRHS have the opportunity to present their projects to Medtronic employees. We caught up with four students to learn more about their PLTW experience and celebrate their successes as they step into the next phase of their careers.
What drew you to this program and what do you look forward to most when you go to class?
Amanda Thor
When I was in eighth grade, my parents and I were looking at high schools that were STEM-focused and came upon the CRHS Biomedical Sciences and Engineering program. Initially, I was drawn by the "medical" part of the biomedical sciences program and was interested to see if my expectations would be met. Throughout my four years in the program, we learned different aspects of the medical and engineering fields. Additionally, we focused on other topics, such as English. Having worked through grant proposals and seminars in my PLTW Biomedical Science courses, I have been able to improve my writing and speaking skills.
Athena Cooper
Initially what drew me to the PLTW Biomedical Science program at Coon Rapids High School was the Anna Garcia case [Anna Garcia is an activity in PLTW Gateway where students investigate the death of Anna Garcia.]. I grew up watching Criminal Minds and Law and Order: Special Victims Unit with my mom. So, when I heard we'd get to investigate a crime scene in Principles of Biomedical Sciences, I was really excited! I also love science and knew I wanted to be in the medical field. The courses were fun, and we did many different hands-on activities and labs each day. Over the years the students in the biomed program have formed a tight-knit community that I know supports each other in their endeavors.
When I go to Biomedical Innovations I mostly look forward to the people. Everyone knows each other quite well, and I'd say I'm close to most of my classmates. We always have fun together while also being serious about the lesson. One thing we know how to do in Biomed is balance having fun and taking work seriously. I also look forward to the hands-on activities we get to do. This year it was a lot of lab work and presenting, which became second nature to me.
Isuna Tucker
I have two older sisters who've been through the PLTW Biomedical Sciences program at CRHS, which influenced me to want to join as well! I've wanted to be a Chemical Engineer since eighth grade. I enjoy the versatility within the Chemical Engineering field, which encompasses many career sectors, and therefore I participated in both PLTW Biomedical Sciences and Engineering classes in high school.
I look forward to learning new material every day! I enjoy going to Engineering Design and Development where we've been working on our capstone project all year long. Additionally, we have had other projects and engineering challenges to strengthen our skills.
Wilbert (Will) Ijoyode
I remember the exact moment that I knew I would be going to Coon Rapids High School for the biomedical engineering program. My parents and I were searching for high schools near our new home when we found one option that stood out to us all. "Center for Biomedical Sciences and Engineering? This was practically made for you!" my dad exclaimed. Over my time in middle school, I developed a strong interest in prosthetic limbs and cochlear implants. I had always enjoyed engineering as a topic, constantly reverse engineering anything my hands could reach and helping my uncle – an electrical engineer – where I could. However, something about biomedical engineering resonated with me unlike any other field. It managed to merge two fields that I found myself struggling to choose between: medicine and engineering. Once I read that CRHS offered this program, no other school was on my mind. Now, as a senior, I thank myself for making that choice. Each day, I'm excited to go to Biomedical Innovations and receive an educational experience different from any other class I take. Through BI, I can apply the knowledge I have garnered over my time in the program and use it in ways I could never have imagined three or four years ago. Thanks to the lessons on resumes and interviews, I also feel confident in my ability to succeed professionally.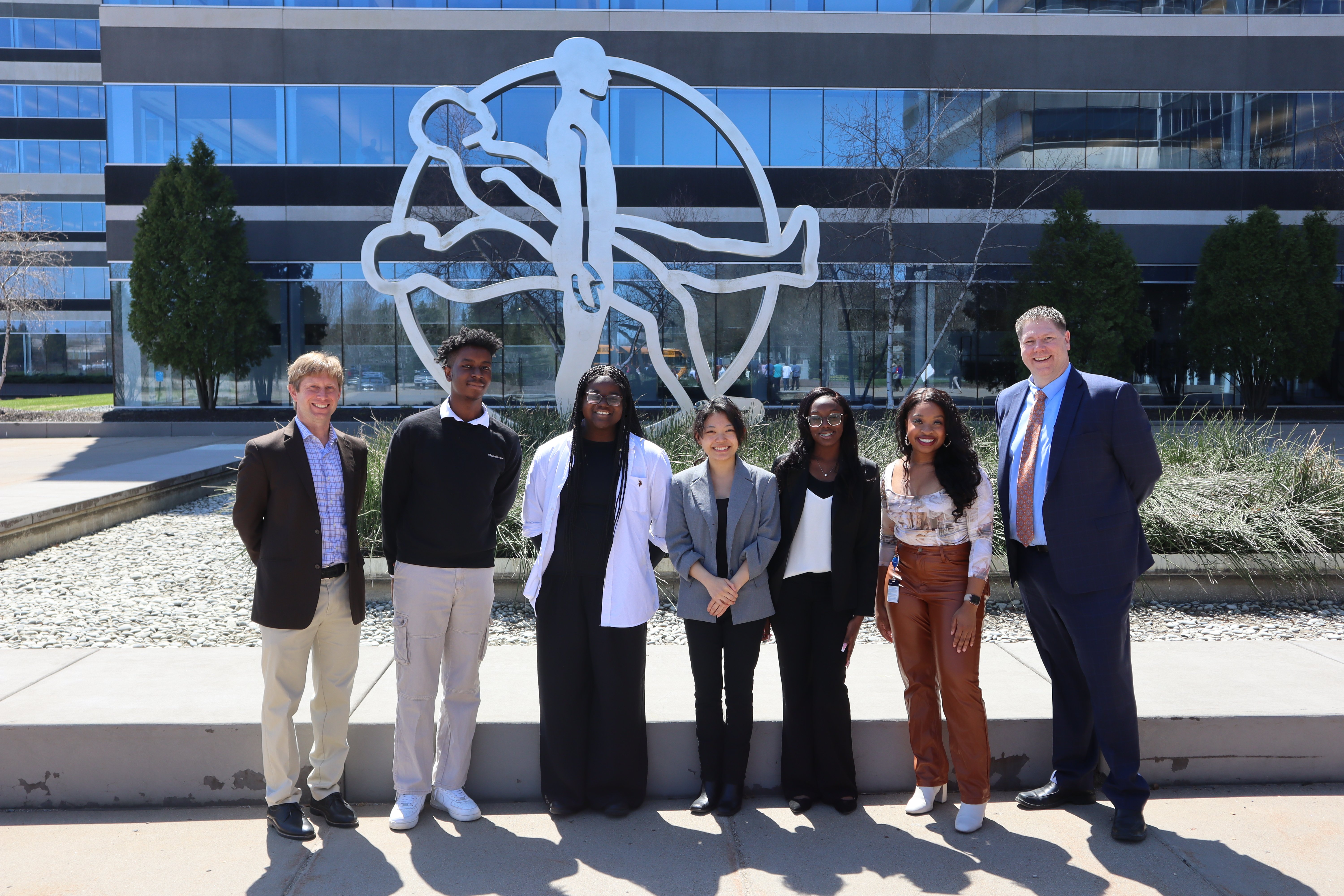 What's next for you? Can you share some of your goals?
Amanda
After graduating at Coon Rapids High School, I'll be moving on to college at Metropolitan State University and plan on majoring in dentistry. Currently, I'm taking a Dental Occupations class to see if I'm truly "compatible" with the aspects of dentistry. I'm also still considering if I want to minor in psychology, as the field is so broad for careers.
Athena
Next year, I'm going to the University of Minnesota Twin Cities. I'm pre-med and majoring in biochemistry. I want to go to John's Hopkin's for medical school and become an anesthesiologist. The first goal I have is studying abroad in college. Through four years of French in school, one of my top goals in high school was to achieve a bilingual seal. I have an affinity for learning languages! Another language I have priority in is Arabic. My mom's side of the family speaks it with multiple dialects, and I hope to communicate with them more deeply through their native tongue. Another goal I have is just graduating college in general. My father completed two years and my mom was unfortunately unable to finish. I'd like to graduate from a four-year school and make them proud.
Isuna
Next year, I'm planning on going to Howard University for Chemical Engineering. My goal is to work in renewable energy. As another passion of mine, I also want to learn how to make orchestral instruments!
Will
Just recently, I got accepted into the BA/MD program at the University of Minnesota. This early assurance program provides me with the pathway to eventually matriculate at the University of Minnesota Medical School. After that, I plan to specialize in neurology or psychiatry, applying my knowledge of biomedical engineering to personalize this field.
Do you have any advice for current PLTW students getting ready to start their Capstone class?
Amanda
Some advice I'd share for current PLTW students going into their capstone class is to choose a topic that fascinates them or even something that they haven't learned about. I know for myself, I knew nothing about alfalfa. I didn't even know what it was until my group and I started our research but even without knowing what it was, I still enjoyed the process of finding what we could about it. Another thing I'd like to note is that failure happens more often than you think. Some experiments will have inconclusive results, and that's ok, it's a trial-and-error sort of process, even if you never reach an answer. Knowing that'll save you time from being stressed out.
Athena
The advice I have for students getting ready for Biomedical Innovations is to allow yourself to immerse yourself in the group work. No matter what you do in life, you have to work with others, and it's important to know your strengths and weaknesses when it comes to group work.
Isuna
It is a lot more fun than it is work, especially if you pick a project topic that will keep you interested for the whole year. The class size is small, and you know your classmates well, so you can get constant feedback from your peers on ways to better your design and vice versa.
Will
To current PLTW students who are yet to start their capstone class: No idea is too much of a stretch! These capstone classes look to bring out the creative side of students. Don't limit yourselves while brainstorming. Instead, think about how you can apply your ideas on a larger scale.
Experiences like these can be brought to any school so ALL students can be workforce ready. The Medtronic Foundation focuses on improving lives for underserved populations worldwide and supporting communities where Medtronic employees live and give. They've partnered with PLTW to help schools in Sonoma County, California, and the Twin Cities Region of Minnesota to implement and expand PLTW programs.
PLTW has comprehensive PreK-12 pathways in computer science, engineering, and biomedical science.
About Coon Rapids High School
Coon Rapids High School - Center for Biomedical Sciences and Engineering (CRHS) is a large community school for grades 9 through 12 in the north metro (Minneapolis-St. Paul) area. CRHS is one of five high schools in the Anoka-Hennepin School District. We are committed to providing opportunities that will help our diverse student body reach their potential!
The Center for Biomedical Sciences and Engineering program is a specialty program within Coon Rapids High School for students who want an integrated and rigorous in-depth focus on science, math, and medical or engineering courses. Through the Project Lead The Way (PLTW) curriculum, students experience a sequence of courses that are hands-on and use a real-world problem-solving approach. Additionally, students build transferable skills such as critical and creative thinking, communication, and collaboration. Students explore careers related to Biomedical Science, Engineering, and Biomedical Engineering.
About Anoka-Hennepin School District
Anoka-Hennepin School District is a member of the Northwest Suburban Integrated School District (NWSISD), which is comprised of seven adjoining school districts working together to provide learning opportunities for students that are multicultural, diverse, and promote racial integration. Students who live within the seven adjoining school districts can attend any of the specialty and magnet school programs (school choice) and receive free transportation.

PLTW provides PreK-12 schools, teachers, and students with hands-on, interdisciplinary STEM-based curriculum that uniquely prepares students for life and their future careers. PLTW rejuvenates teachers, providing world-class experiences that keep them on the forefront of how to prepare students for the demands of tomorrow. PLTW:
Has provided professional development opportunities to more than 80,000 teachers giving them the support and resources needed to inspire students

Offers best-in-class

teacher training

: PLTW Core Training with Master Teachers

Continuously updates teacher resources that are available on demand

Facilitates teacher networking opportunities

Develops curriculum by a team of writers, many of whom are former teachers
Learn more about PLTW on pltw.org.