PLTW Team Members along with representatives from schools in Jackson County, MS and Chevron met at FabLab Jackson County to celebrate 10 years of partnership in Mississippi and the release of PLTW's latest impact profile: Chevron and PLTW: Partnering to Build a STEM community in the Gulf Coast, which highlights the work being done to change the lives of students in the Gulf Coast.
Of the 94 PLTW programs in the state of Mississippi, 21 are in south Mississippi and 17 are in Jackson County Schools creating a unique STEM ecosystem in the region. Guests in attendance heard impactful stories on the history of the FabLab serving STEM students across the area thanks to Chevron grants. Testimonies were shared with those in attendance from current PLTW teachers and students, in addition to PLTW Alumni Jarrod Scott, who is now an Associate Process Engineer with Chevron. You can click here to see news coverage of the event.
The following day, representatives from PLTW and Chevron visited R.K. Smith Middle School, part of St. Charles Parish Public Schools, in New Orleans, LA. Two middle school students, Faybionne Celestine and Devin Williams, shared their successes and the impact that their PLTW Gateway classes have had on them.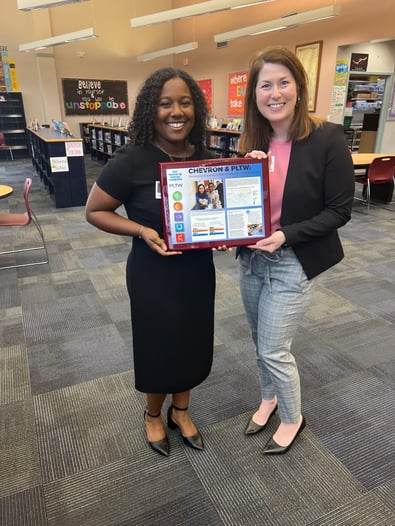 "Coding is my favorite, and I didn't know anything about it until I took this class," said Faybionne. "It was a new experience for me, and I went through some troubles with it at first, but now it is enjoyable."
Chevron grants have enabled St. Charles Parish Public Schools to implement PLTW across the district without touching their district budget.
Since 2009, Chevron has partnered with PLTW to bolster STEM education in communities throughout California, Hawaii, Louisiana, Mississippi, New Mexico, Ohio, Pennsylvania, Texas, Washington D.C., and West Virginia.
"Chevron is proud to support Project Lead The Way and their mission to empower students to thrive in an ever-evolving world," said Leah Brown, Public Affairs Manager for Chevron's Gulf of Mexico Business Unit. "The Project Lead The Way curriculum enables teachers to engage students in real-world learning. Their hands-on educational experiences also foster a passion for STEM and provide students with the skills they need to help ensure their future success."
Since the partnership began, Chevron has contributed to the education of students across the nation and has provided thousands of hours of teacher training. More than 411,015 students have had the opportunity to engage in PLTW's transformative classroom experiences, and over 9,584 teachers have completed more than 236,118 hours of professional development, thanks to Chevron's support.

PLTW provides PreK-12 schools, teachers, and students with hands-on, interdisciplinary STEM-based curriculum that uniquely prepares students for life and their future careers. PLTW rejuvenates teachers, providing world-class experiences that keep them on the forefront of how to prepare students for the demands of tomorrow. PLTW:
Has provided professional development opportunities to more than 80,000 teachers giving them the support and resources needed to inspire students

Offers best-in-class

teacher training

: PLTW Core Training with Master Teachers

Continuously updates teacher resources that are available on demand

Facilitates teacher networking opportunities

Develops curriculum by a team of writers, many of whom are former teachers
Learn more about PLTW on pltw.org.