Pathogen Patrol — PLTW's first learning experience on Roblox — gives educators access to new instructional tools for STEM learning
Indianapolis, IN – Project Lead The Way (PLTW) announced today the release of its new learning experience on Roblox (NYSE: RBLX), Pathogen Patrol™. This is the first PLTW designed learning experience on Roblox, providing educators with innovative tools to help students enhance their critical thinking abilities, learn in unique ways, and work together in teams. Pathogen Patrol will be available to over 150,000 high school students in the PLTW Biomedical Science program, alongside the global Roblox community that can freely access the experience as of today.
The experience was developed with support from the Roblox Community Fund. The Fund offers investments, grants, and advances to exceptional education organizations and developers, enabling them to create free, curriculum-based educational experiences on Roblox for immersive and collaborative learning, including for underserved communities. This initiative is part of Roblox Education's goal to engage 100 million students in high-quality learning on Roblox by 2030.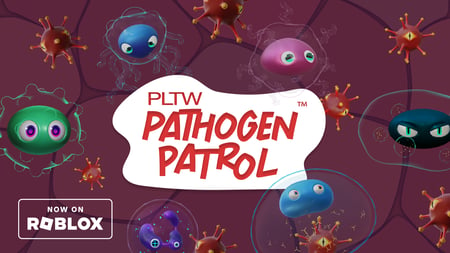 As a leader in STEM education, PLTW is a trusted partner for schools across the United States, drawing from decades of expertise in designing and implementing experiential courses in engineering, computer science, and biomedical science. Pathogen Patrol builds upon PLTW's Biomedical Science curriculum by integrating medically accurate experiences into immersive environments.
In Pathogen Patrol, students and users are transported into the body of a sick patient to help defend their patient against invading pathogens. Students take on the roles of five different white blood cells, discovering each cell's unique abilities. They collaborate as a team and learn how the cells function together to protect the health of the host. Through fun and collaborative gameplay, students gain a deep and enduring understanding of the human body and its response to infection. Pathogen Patrol™ aims to spark students' interest in learning and engage audiences who might not typically identify with STEM.
"Students today need to be met where they are in their education journey. PLTW sees Roblox as an important platform that offers tools and easy access from anywhere in the world to help achieve this," said David Greer, Executive Vice President, and Chief Program Officer at PLTW. "Experiential learning through Roblox allows students to learn by doing in a way not possible before. They will gain enduring understandings through repeated gameplay and master complex concepts without even realizing they are learning."
The experience was created by the instructional developers at PLTW and brought to life on Roblox through the creative minds at Tipping Point Media. Designed to be accessible both in the classroom facilitated by a teacher, and for users outside of school who want to explore on their own and do not have a background in biology or STEM, Pathogen Patrol provides different onramps to this educational opportunity. Students who may not have access to high-quality biology or STEM education benefit from Pathogen Patrol being free to use for all.
"The Roblox platform enables developers like Tipping Point Media and educational experts like PLTW the opportunity to create engaging and in-depth learning environments for students and educators to unpack the complexity of scientific phenomena that can otherwise be difficult to investigate," said Rebecca Kantar, Vice President of Education at Roblox. "In this case, cells and the immune system become immersive instead of elusive. Pathogen Patrol is just one example of how our partners can use Roblox to support the kinds of learning experiences deserving of exciting, rigorous, and dynamic interactions in the classroom that will help us
achieve our goal of engaging 100 million students."
Starting in the 2023-2024 school year, Pathogen Patrol will be a key learning experience in the Human Body Systems course within the PLTW Biomedical Sciences pathway.
###

About PLTW
Project Lead The Way (PLTW) is a mission-driven organization that is transforming the learning experience for millions of PreK-12 students and thousands of teachers across the U.S. PLTW empowers students to develop in-demand, transportable knowledge and skills through pathways in computer science, engineering, and biomedical science. PLTW's teacher training and resources support teachers as they engage their students in real-world learning. Approximately 12,200 elementary, middle, and high schools in all 50 states and the District of Columbia offer PLTW programs. For more information on Project Lead The Way, visit pltw.org.

Media Contact
Jackie Yanchocik
Director of Public Relations
jyanchocik@pltw.org