Elementary STEM Curriculum in Spanish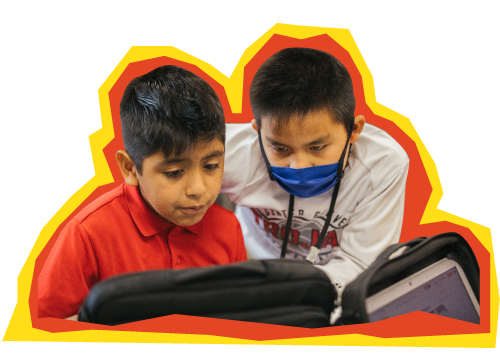 English Language (EL) students are a vastly underrepresented population. They also represent an enormous source of untapped potential and opportunity.
EL students are the fastest growing student population, expected to make up almost 25% of all public school students by the year 2025! The overwhelming majority of those EL students speak Spanish at home. The academic performance of these students is remarkable, too. Multilingual students showed two to three times more progress in reading and math than students who speak English only.
However, even with such impressive numbers, EL students are underrepresented in college and in the STEM workforce, fields which are among the fastest-growing and highest-paying in the United States.
The path to success in school and to those STEM careers for EL students is through rich learning experiences which build their confidence, allow them to engage by doing, and which cultivates a transition to proficiency in English. Starting in the earliest grades.
PLTW Launch (PreK-5) creates exactly that environment. Students shine. Teachers guide. Schools perform.
Download resources to learn more about the successes schools across the US are experiencing with PLTW.
Contact us to develop an implementation plan to bring STEM education to your EL students.
"(PLTW) Launch reaches students before they develop notions about what they can or can't do. The curriculum lets them create, innovate and problem solve in fun ways as they work side -by -side with their classmates. And the cast of multicultural characters helps students relate and make connections about what is possible."
Martha McCabe
Executive Director, KC STEM Alliance
"This is awesome! Me gusta construir cosas y usar un blueprint." ["I like to build things and use a blueprint."]
Isaiah
PLTW Launch, Kindergarten Student
"I've seen this take a student who has struggled at every level and lesson jump in and succeed. The first thing they do is smile and say, "I did it!!" That confidence will carry over into all areas of their lives.
Shannah Booth
PLTW Facilitator, Lees Summit School District