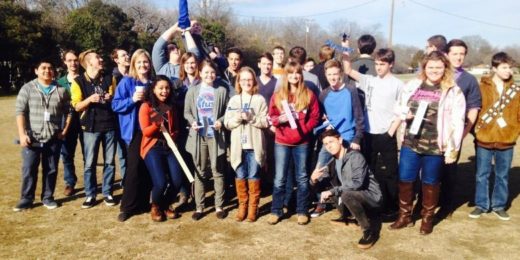 April Moon Earns PLTW National Teacher of Year Award
April Moon, PLTW Engineering Master Teacher at Waxahachie Global High School in Waxahachie, Texas, received the 2016 Robert and Patricia Kern PLTW National Teacher of the Year award at PLTW Summit 2016.
"I'm still very much in shock, that I won the award," Moon said. "I know the quality of PLTW and the quality of the teachers and just everybody that's involved, so I feel very, very honored to just be a part of the network, and now, to be recognized by PLTW. I'm like kind of, 'OK, I guess I'm dreaming or something.'"
Moon worked as a civil engineer before changing career paths, bringing an incredible amount of knowledge and perspective to her school's PLTW program. She is recognized in her district for the instrumental role she's played in getting more girls in her district involved in STEM: She offers a scholarship to girls who go into STEM (science, technology, engineering, and mathematics) fields when they graduate and has organized outreach programs for elementary school girls with a robotics club called Digital Divas. In addition, she is credited with inspiring the majority of her students to take PLTW Engineering classes all four years of high school.
Moon mentors teachers in her district and is also the district's newly elected STEM Coordinator. In 2014, she was named PLTW Engineering Teacher of the Year.