Da Vinci Science High School
201 N Douglas St El Segundo, CA 90245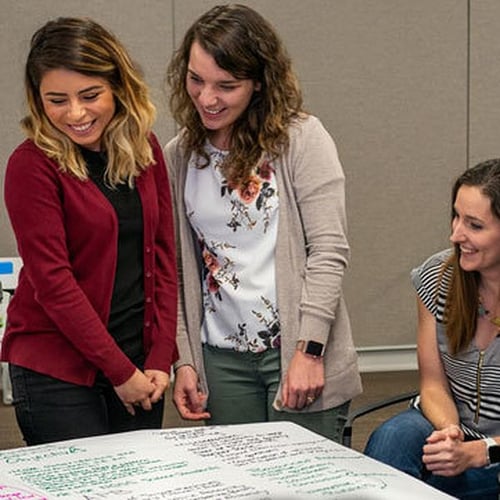 Training Summary
The Da Vinci Science High School will host select in-person PLTW Core Training for PLTW Launch, PLTW Gateway, PLTW Computer Science, PLTW Engineering, and PLTW Biomedical Science
Da Vinci Science High School provides innovative learning spaces, curriculum for its students, and collaboration opportunities for teachers. Da Vinci Science is located just minutes from Los Angeles International Airport in a 210,000-square-foot, futuristic building where Northrop Grumman once designed fighter jets. The campus is nestled among aerospace, energy, and biomedical science leaders, giving the students and faculty unique access and connection to industry opportunities.
Designed more like a professional collaborative space than a traditional high school, the campus environment supports and fosters real-world problem-solving and project-based learning. All students take PLTW and select among one of three career pathways – Mechanical Engineering, Civil Engineering, and Biomedical Engineering – which include specialized courses and opportunities for students to work alongside professionals in these fields.
Da Vinci Science High School
201 N Douglas St
El Segundo, CA 90245
PLTW Solution Center
877.335.PLTW (7589)
Training Schedule
The summer 2023 Core Training Schedule is available here.
Planning Your Investment
PLTW is pleased to offer standard pricing for all PLTW Core Training sessions. The tuition fee covers access to all training materials; course facilitation and support by expert Master Teachers; lunch, snacks, and drinks; PLTW-branded swag; and the PLTW Training Guarantee.
Travel, accommodations, and dinner are not included in the tuition fee, and prices for these items will vary by hub.
A credit card or purchase order is required to secure, and pay for, your PLTW Core Training. Access pricing for all PLTW programs and trainings on our Investment page and use our Investment Tool to help plan your summer 2023 PLTW Core Training experience. You should secure any advance approvals prior to registering on myPLTW.
If you're unable to provide credit card information or a purchase order to confirm your registration, you can use the Payment Guarantee Form to register:
Select PO Number
Enter Payment Guarantee as your purchase order number
Choose Upload Files and upload a completed copy of the Payment Guarantee Form
Select Submit
PLTW reserves the right to cancel any PLTW Core Training registration where a false or inaccurate purchase order was uploaded during the registration process.
Start your PLTW Core Training experience right by preparing with the hardware and software you need for your courses. Detailed information about the requirements for each course can be found here. Here are a few general tips to get your started:

Review the Technology Requirements specific to your course well in advance of your training.
Work with your school or district's IT department to acquire the device(s) you need, whitelist the suggested websites, and install the software needed for the course.
Request administrator rights to your device. This is critical to have in place so that problems can be solved on the ground. With no administrator rights, our team onsite or in the Solution Center won't have the access needed if you need help troubleshooting issues during your training.
Complete software tutorials in the prerequisite materials.

Prerequisite training introduces you to Project Lead The Way and builds a foundation for the course you're taking—providing an introduction to the learning experience, course tools, and additional resources that set you up for success. You must complete prerequisite training after you register and before you arrive for check-in.

Our goal during Core Training is to provide you with unparalleled, dynamic learning experiences. One way we do this is through the onsite support team of PLTW trained experts. You will interact with two types of onsite experts during Core Training – Master Teachers and Training Success Managers. PLTW Master Teachers are adult facilitation professionals and PLTW content experts; they are your go-to resource for anything related to PLTW curriculum and instruction. PLTW Training Success Managers serve as the daily onsite point-of-contact and event lead for Master Teachers, participants, the PLTW team, and Training Partner or venue staff; they are the go-to resource for any other questions you have about the training experience.

Check-in

Check-in gives you an opportunity to get your bearings at the training venue, meet the training support staff and Master Teachers, ensure your technology is working, and learn more about PLTW and what to expect during the training experience.

Check-In Details

What happens during check-in?

Check-in and orientation give you an opportunity to get your bearings at the training venue, meet the training support staff and Master Teachers, ensure your technology is working, and learn more about PLTW and what to expect during the training experience.

Please complete all prerequisite training before you arrive. You'll want to have your laptop with charger and a photo ID to check-in so that you can:

Receive your room assignment for training
Connect your laptop to the onsite printers and verify that your technology is working properly
Ask any additional questions you may have about the venue

For all training sessions that begin on a Monday, check-in times are:

Sunday | 2-4 p.m. Local Time
Monday | 7:30-8 a.m. Local Time

Check-in is required for all participants. For those who are attending PLTW Core Training for the first time, it's especially helpful to arrive for check-in the day prior to allow extra time to get to know the venue and verify that your technology is working.

Housing

We are pleased to offer negotiated rates for PLTW Core Training participants at the below hotel.

One of the key benefits of booking the hotel we identify is that you'll be with other participants and Master Teachers – it's a great way to build your community. Additionally, we have worked with the hotel to enhance your overall experience with things like complimentary breakfast and Wi-Fi, and comfortable shared spaces for evening study sessions.

Embassy Suites by Hilton Los Angeles International Airport South – El Segundo
1440 E. Imperial Avenue, El Segundo, CA 90245

Phone: 310.640.3600
2.0 miles from training location
Rate: $190/night + 12.20% tax plus $0.40 tourism charge (taxes will be charged at the prevailing rate)
Rates valid until the dates below based on availability:

Week of June 26
Week of July 10
Week of July 17
Week of July 24

Rate includes complimentary breakfast, complimentary happy hour, complimentary guestroom Wi-Fi and wireless internet access throughout the hotel, fitness center, onsite laundry facilities, complimentary airport shuttle (LAX only)
Discounted self-parking rate to $18 per day (normally $42 per day)
To make a reservation, click on this

booking link

.

When making reservation, first is to click the booking link, then choose the date/s for your stay (between July 09-28, 2023) then click the box "Update", the room type will pop-up, then choose/click the type of room you need and input all the information required like name, address, and credit card information. Then click the final box "Book Reservation". A confirmation number will appear and will be emailed to you as well.

If you would prefer to speak with a central reservations agent, please call directly at (800) 362-2779 and give them your Group Code 911.

We strongly encourage you to register and reserve your hotel early, as accommodations are available on a first-come, first-served basis and capacity is limited.

Any nights needed outside of the dates listed above, must make a separate reservation with the link matching your dates. The hotel will make sure you do not have to change rooms with the separate reservation, if possible.

Please note that the rates quoted are subject to availability. You must provide a credit card to secure your reservation; the credit card will not be charged when you make your reservation. Upon check-in, you will need to provide a credit card for payment. You may also submit a completed and signed credit card authorization form for your selected hotel prior to arrival to cover any or all expenses.

Suggested Packing List

We have assembled a list of items based on previous participant and training partner feedback that could help PLTW Core Training feel more like a home away from home.

Attire and Personal Items

Casual clothing. You may wish to bring a sweater or sweatshirt for comfort in air-conditioned buildings. Please remember that we require long pants or pants that extend to the ankle and closed toed shoes in the laboratories. Shorts are fine for after class and weekends.
Comfortable walking shoes.

Optional Miscellaneous Items

Digital camera, cell phone and/or equipment to download pictures to your laptop (highly recommended)
Pens, pencils, erasers, highlighters
Spiral notebook or notepad
Scientific calculator
Personal emergency information (doctor/insurance/emergency contacts)
Umbrella

Meals

Your tuition fee includes lunch, snacks, and drinks. There are a variety of healthy snack and drink options available during Core Training. When you register, you'll have the opportunity to let us know about any dietary needs and restrictions. We can meet dietary needs upon request.

Breakfast is included with suggested hotel options; please verify with your hotel.

Dinner is not included in the tuition fee. You'll have the opportunity to explore the area and enjoy local restaurants.

Local Area Restaurants

Chipotle Mexican Grill | 1 mile
307 N Sepulveda Blvd Ste B, El Segundo, CA 90245
310.426.1437
$

The Habit Burger Grill | 1.1 miles
311 N Pacific Coast Highway, El Segundo, CA 90245
310.524.9016
$

Good Stuff Restaurant | 2.3 miles
131 West Grand Avenue El Segundo, CA 90245
310.647.9997
$$

Paul Martin's American Grill | .9 miles
2361 Rosecrans Avenue El Segundo, CA 90245
310.643.9300
$$

North Italia | 1.8 miles
840 Sepulveda Boulavard El Segundo, CA 90245
310.469.7695
$$

Parking

Price: Free

Free and ample parking is available directly in front of Da Vinci Schools.

Address: Da Vinci Schools
201 North Douglas Street
El Segundo, CA 90245

Travel by Car

Training Address: Da Vinci Schools
201 North Douglas Street, El Segundo, CA 90245

Travel by Air

Los Angeles International Airport (LAX)

Directions:
From LAX to Da Vinci Schools:

Head west on W Century Blvd toward Vicksburg Ave
Use any lane to turn left onto S Sepulveda Blvd
Use the left 2 lanes to turn left onto W Imperial Hwy
Turn right onto N Douglas St
Turn right (destination on right)

Directions:
From LGB to Da Vinci Schools:

Get on I-405 N
Follow I-405 N to Del Aire
Take exit 44 from I-405 N
Continue on W El Segundo Blvd to your destination in El Segundo

Ground Transportation Options

Taxi, Uber, or Lyft are recommended when traveling around the local area.

Local Area

Earning IACET CEUs Issued by PLTW

PLTW is proud to partner with the International Association for Continuing Education and Training (IACET) to award IACET Continuing Education Units (CEUs). Teachers can earn IACET CEUs when they complete PLTW Core Training, as well as select other PLTW professional development experiences.

One CEU is equal to 10 contact hours of participation in an organized continuing education experience that has clear objectives to meet learner needs and assess outcomes. When you successfully complete PLTW Core Training, we'll provide you with a transcript that includes the name of the course, the total number of professional development hours completed, and the total number of CEUs earned. You can view your CEUs at any time by visiting the Professional Development section of myPLTW and clicking on Transcript.

A wide range of organizations – including several states' departments of education and school districts – recognize IACET CEUs as the official standard for continuing education and training, which allows teachers to use IACET CEUs toward licensure or certification renewal. The IACET website has a list of agencies that accept its accreditation. Teachers must confirm with their school/district administrator, state department of education, or other relevant organization whether IACET CEUs qualify as recognized CEUs based on specific state or local requirements.

Getting PLTW Professional Development Approved by Your District

We encourage you to confirm with your school/district administrator that PLTW Core Training qualifies for your training needs and may be included in any local training plan and count toward licensure renewal requirements. Here are some resources you might find useful as you make the case to include PLTW Core Training in your local training plan:

• Frequently Asked Questions about PLTW professional development, including more information about IACET CEUs and accessing your transcript

Applying for Graduate Credit

PLTW partners with multiple postsecondary institutions that offer graduate credit for select PLTW programs and courses. View the current list of postsecondary partners that offer graduate credit here, along with specific application details, cost, and requirements. All graduate credit opportunities are created, managed, and issued by the offering institution. Please contact the offering institution directly if you have any questions about a specific opportunity.

Participant Cancellations or Substitutions

Attendance at PLTW Core Training is required to earn the credential. Individuals can cancel their training registration with no penalty up to 21 days prior to the first scheduled day of training. You can make participant substitutions up to 72 hours prior to the start of the event if participants come prepared with the necessary technology and complete all prerequisite assignments. Once training has started, you cannot make substitutions.

Cancellations made within 21 days of the event incur the full training fee. If you do not cancel, make a timely substitution, or do not attend, you are responsible for full payment of the training fee. We cannot apply funds paid towards a cancellation or substitution fee to future training events. Payment is required even if you don't successfully complete training and earn the credential.

PLTW Schedule Changes

To enable you to plan effectively, we strive to avoid cancelling or changing training events after participants have registered. However, from time to time, PLTW may cancel a training event if the experience does not meet our quality standards due to insufficient registrations, equipment availability, or other reasons. PLTW reserves the right to cancel or change a class at any time but will provide at least 21 days' notice of the cancellation or change, whenever possible. In the event of a cancellation, PLTW will work to promptly accommodate all registered trainees through an alternative training option. PLTW is not responsible for any costs that may be incurred due to the cancellation of a scheduled class such as cancellation penalties for transportation or accommodations.