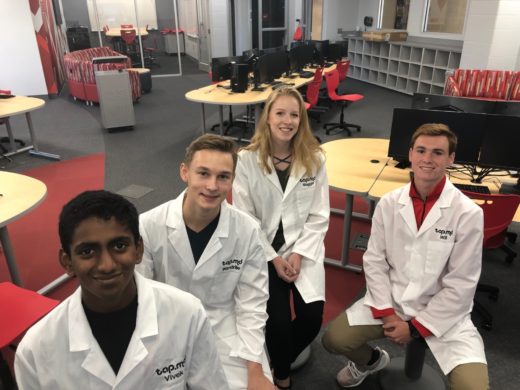 June Community Award Spotlight: Indian Hill
Every day, members of our communities rise to meet unexpected challenges. From children to parents and from caregivers to businesses, we have all been asked to step up and become leaders. We've faced and pivoted to adapt and grow through our everchanging world due to unforeseen events that affect our daily lives. No action is too small, and together our impact is large.
Your actions should be recognized and celebrated. Our communities are the foundation of our society, and we stand stronger together. PLTW is proud to celebrate diverse communities and its members who exhibit collaboration, leadership, and entrepreneurship in service across the nation. As a result, we have created the PLTW Community Celebration Awards to recognize communities that have come together to care for each other in times of need. Join us in celebrating the following community this month!
Indian Hill Exempted Village School District serves 2,175 students and 1,400 families in suburban Cincinnati, Ohio.
"The district is ranked first in Ohio by Niche and seventh nationally," Superintendent Kirk Koennecke said. "Indian Hill has been named a Top Workplace several years running. None of this could happen without strong teachers, partners, and families working together."
A district dedicated to STEAM, PLTW courses have thrived in an environment stocked with high-tech, medical, and environmental partners such as the Greenacres Foundation, GE Aviation, and Proctor & Gamble.
"With a mission of enduring excellence, we endeavored to keep STEM programs available throughout the pandemic, including simulations and labs, like the annual stock market challenge with Alpaugh Family Economics Center, University of Cincinnati; our labs at Indian Hill High School where Proctor & Gamble guest speakers assist students; and all of our PLTW offerings and extracurricular activities," Kirk said. "Fabulous students and partners have been fortunate to garner some attention with the great work of these learners, as we promote a holistic education for all."
The high school's new Hack Club continues to recruit female STEM leaders for projects with college credit, hosting competitions with area partners. The seventh-grade students were also able to complete their annual Rube Goldberg challenge.
The district's PTO helped sponsor the robotics team to compete in in-person and virtual challenges. The team won the virtual Google Challenge and moved on to the worldwide competition.
"Throughout the past year, this school community has demonstrated caring, resilience, and ongoing STEAM achievements at an unparalleled level," Kirk said.
The community banded together to create a program called Braves Helping Braves, a financial resource for families in need during the pandemic. The program has served families with unique circumstances, such as providing technology for families for remote learning, food delivery to hundreds of families, and rent assistance.
The Indian Hill Foundation parent group annually raises over $80,000 to help the district beyond its regular budget. This past year, they helped fund a new Digital Arts & Technology Lab at Indian Hill High School worth over $150,000 and equipped a STEM lab at Indian Hill Elementary School with over $10,000 in new supplies. In addition, the district partnered with the Foundation to provide COSI STEM kits for K-2 learners – supplies that could be used in school or at home.
The community responded with mental health resources through partners like Tri-Health hospitals. A vaccine program also sponsored by Tri-Health was implemented to help the district's staff access vaccinations.
High school students participated in a presidential service project with the community's COVID Supply Team. Students have participated in many different community service activities in and out of the classroom, including delivering masks, meals, and cards to senior citizens.
"Students and community partners have worked together to foster achievement, perpetuating a legacy of excellence in service to others," Kirk said. "I am so proud of this entire school community and their innovative core. At the heart is a culture created around STEM and inquiry-based learning experiences."